I made it out of work early to bring you this

Valentines

day post! Love is definitely cupcakes. Mine are never as beautiful as ones bought but I am practicing. However today I'm s
haring
bought cupcakes with you.

In Newcastle we are lucky enough to have a Fenwicks department store, it is one o
f my favourite places to shop as it has a boutique and a Topshop, a Mac counter and it
sells Disney Couture jewellery. The best part of it though has to be the food court! It has the most amazing fresh food ever and the
boy a
nd I have agreed if we ever came into money we'd do all our food shopping there! In the time being we only buy bits and pieces if we have the money spare (which isn't often) so instead we just browse. Last Monday I paid my weekly visit o
nly
to find a new cupcake counter next to the fancy chocol
ates. I was so excited I just had to buy some with my weeks tips.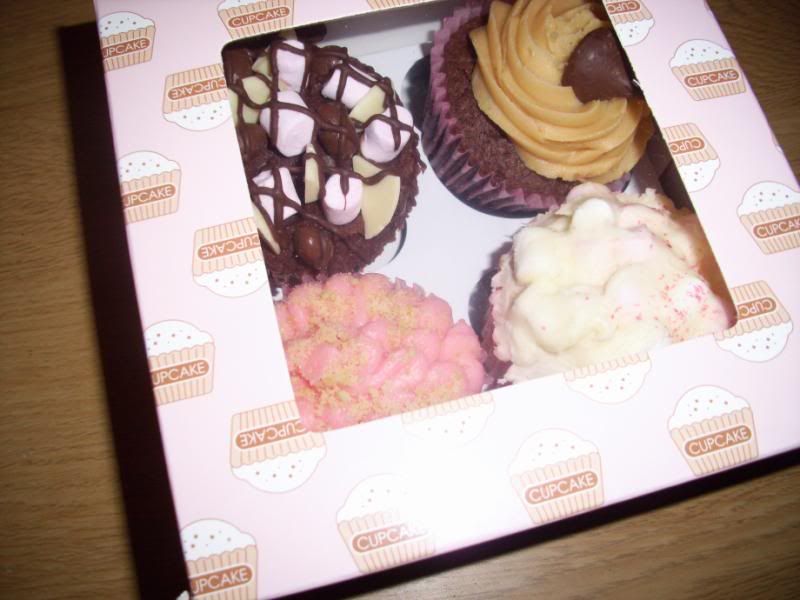 I chose a box of four, these cost £1.75 each, however they have
cheaper ones for £1.25 each. The £1.25 cupcakes are all vanilla with different colour butter icing. I just couldn't
resist the different flavoured cupcak
es as they were all to die for. The cupcakes themselves are presented in a beautiful box with cupcake decoration which is really cute. After a few minutes of choosing, I decided on peanut butter, rocky road, strawbe
rry short
cake and marshmallow.



Rocky Road, deliciously soft chocolate and vanilla marbled sponge topped with chocolate, marshmellows and white chocolate buttons. This was the boys favourite. It was soft, and
very c
hocolately in the way that sticks to the top of your mo
uth because of how moist it is. The only difficulty was eating it with the marshmellows and buttons stuck on top. I had to pick them off because I didn't want to put the whole thing in my mouth at once.
Marshmallow, again marbled sponge this time with vanilla and strawberry topped with marshmallows covered in pink icing, very girly. This one was one of my favourites. It was so creamy and I'm a huge fan of strawberry and vanilla. Because the marshmallows were covered in icing they were easier to eat than when they were stuck in the chocolate like on the rock road cupcake.
Peanut Butter Cup, chocolate sponge topped with peanut butter icing (nuts and all!) and a peanut butter filled chocolate drop. This was my other favourite. My all time favourite combination is chocolate and peanut butter and this is always the flavour cupcake I order (apart from red velvet) I have had one from Hummingbird Bakery and Magnolia Baker. These Fenwicks cupcakes were on par with one from bo
th famous bakeries. Like all the other cupcakes it was deliciously moist and chocolately.
Strawberry Shortcake, strawberry sponge topped with strawberry butter icing and vanilla sponge crumbs. As delicious as this one was I found it too much of a strawberry overload. It was still moist and the icing was very buttery but it was really sweet and sugary, too much for me infact.
There were many other flavours, including red velvet which will be the next one for me to tree. I highly recommend checking out the cupcake counter in Fenwicks in Newcastle if y
ou're visiting. They even do custom order birthday cakes if you want something for a special occassion!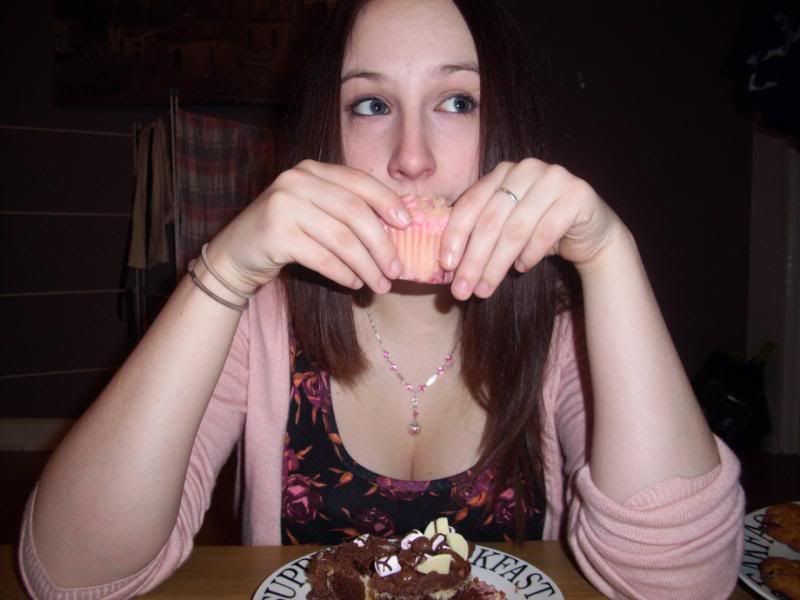 Happy Valentines Day Everyone.