I'm drifting in and out of consciousness in the blog world due to work, I'm not working as much as the previous week but still working. I have another holiday next week but I'm away and shall not be blogging anymore than I am at the moment. It'll be nice to get away though. I still have a lot of ideas fo
r blog entries but by the time I get in from work I'm exhausted and during the day I'm busy. There is just no happy mediu
m at
the
moment.

This evening I thought I'd bring you a recipe. Something quick and simple th
at I know I'll eat tons of since the boy is away all next week and the days I am in the house I'll not bother s
ince I hate cooking for one. It's one of my favourites that started out as a Deliah's from her How to Cheat book but I've adapte
d
it t
o my own liking, just as I do with all recipes from books. For anyone who has the book (and I do highly recommend getting it especially if you want to make delicious dishes on a budget) it's the Spinach Tortelloni with Leeks & Gorgonzola on page 192. Personally I'm not a huge fan of Spinach and we never have Gorgonzola so I wanted to prove that this delicious recipe can be adapted to everyones own tastes.

Presenting

Mozzerella & Basil Tortelloni with Prosciutto Ham & M
ushrooms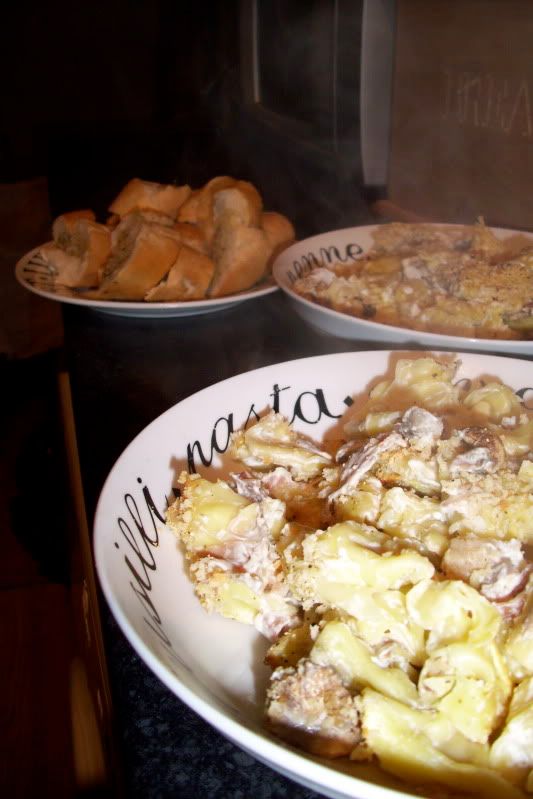 Served with stupidly cheap but actually quite tasty garlic bread. This was a quick dish I made after I finished work and didn't have time to make my own, I think it's about 50p a stick from Sainsburys. To get to the above picture, you have to begin like this.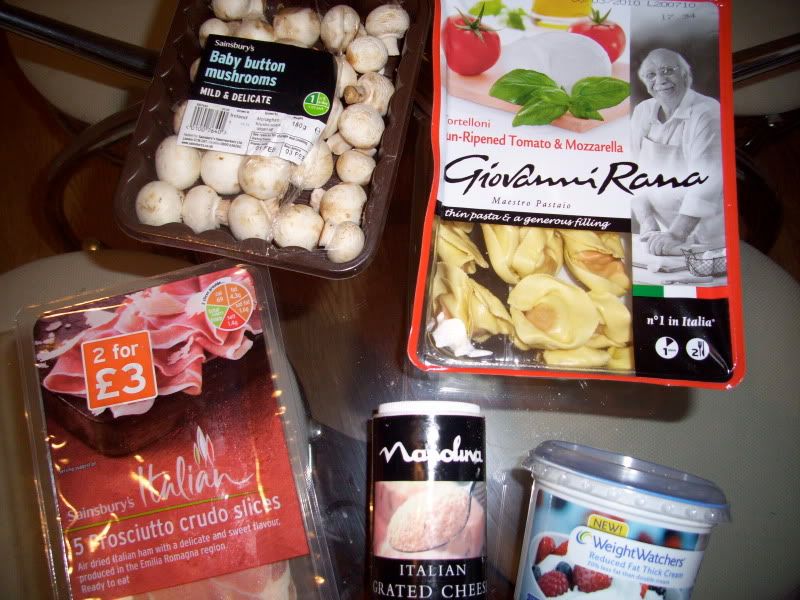 (I am aware the packet says tomato, but I took this picture after I'd already thrown away the tortelloni packet!)


The ingredients I used, but as I said before you could use any numbe
r of ingredients, were the tortelloni, in whatever flavour you like. The boy and I usually stock up on these when they have them for a £1 in our supermarkets (which is quite often). Button mushrooms, prosciutto, parmasan and s
ome crea
m. Weight watchers do a great cream that's between a double and a single, I find it perfect for bakes. I also used some breadcrumbs on the top and seasoning of course.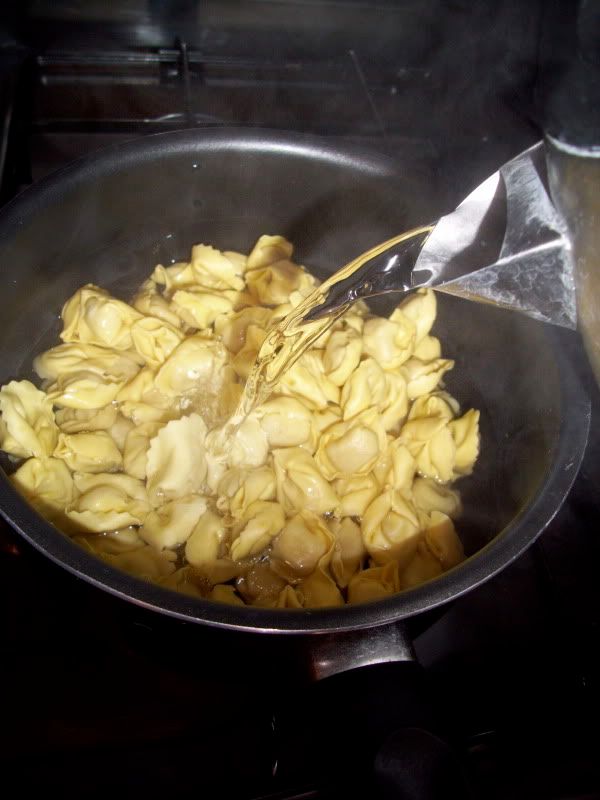 First put the tortelloni into a pan and cover with boiling water. Season well and leave to cook until the pasta is soft (usually takes less than 5 minutes but it depends what heat you put it on,
my pasta is usually on rapid.)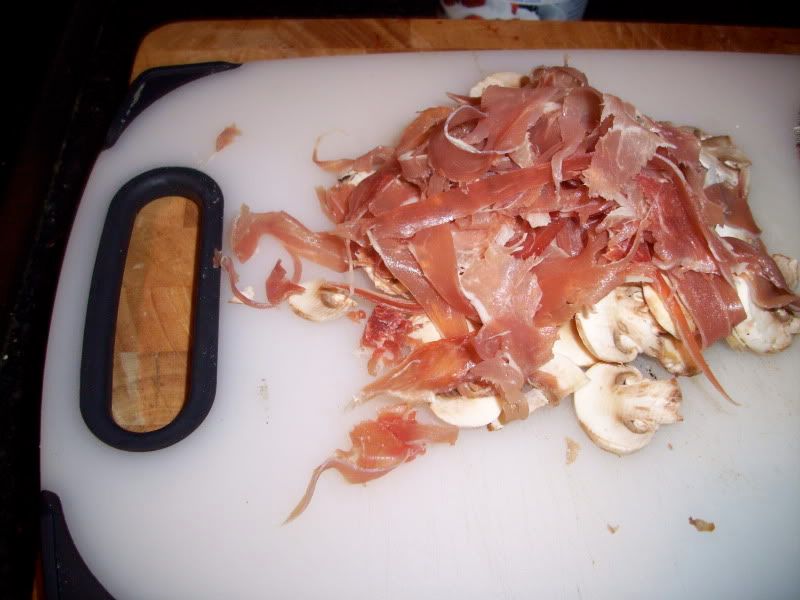 Next thinly slice the mushrooms, I have slight ocd when it comes to chopping veg and my mushrooms always have to be thinly sliced so they retain their mushroom shape rather than being diced into cubes. No idea why, just thought I'd give you a fun fact. Then tear up the prosciutto so it's in thin strips. I usually find tearing much easier than trying to cut prosciutto or parma ham.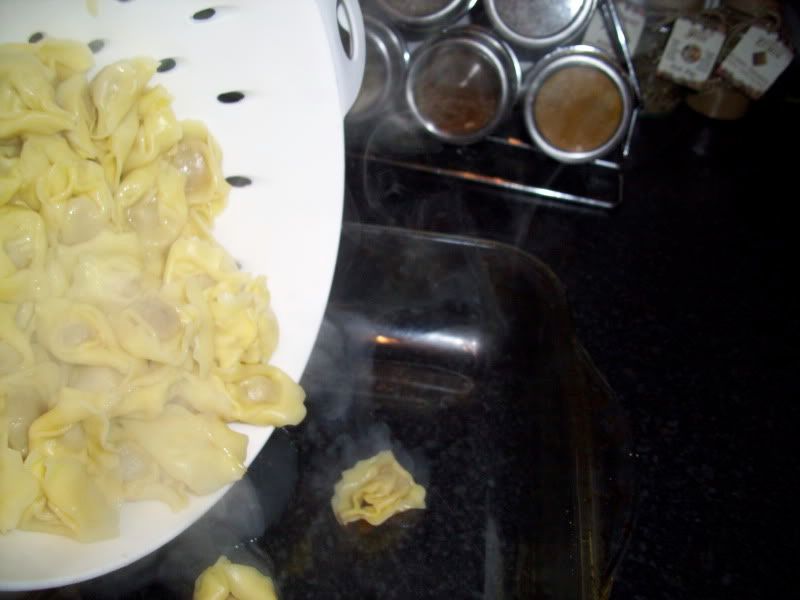 Drain the water off then pasta then pour into a baking dish.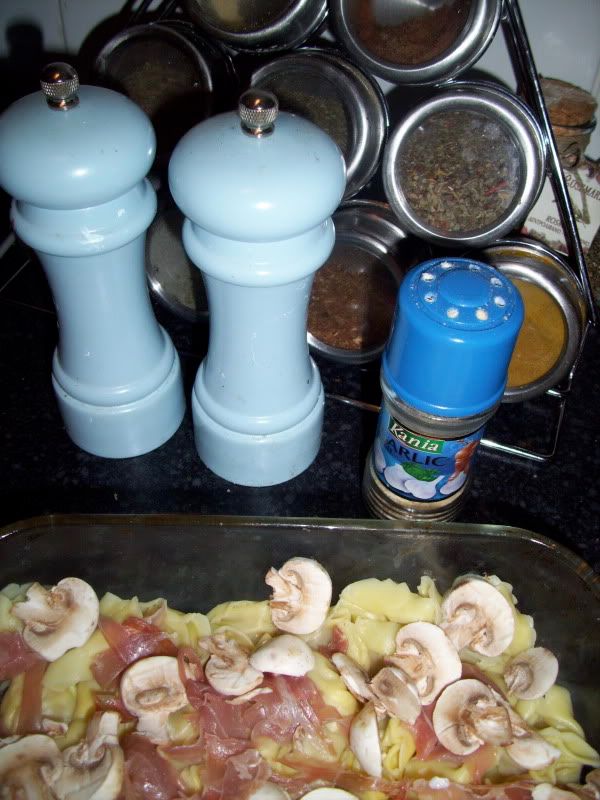 Top with the prosciutto and mushrooms, then season with salt, pepper and garlic.


Mix in the cream and arrange so it covers the whole bottom of the oven dish. Top with bread crumbs and parmasan then put in the oven. At the same time put in the garlic bread. I usually wrap it in tin foil so it cooks at the same speed as the pasta bake. Nothing worse than burnt garlic bread. Cook in the oven until it is golden brown, then serve.