In my teens I wasn't the make up junkie I am now, infact my make up obsession didn't really start until I was nineteen perhaps? Nowadays I enjoy buying make up more than I do clothes and that is really saying something. I have really sensitive messy skin, the dark circles under eyes, the occasional dry patch, the spot patches, I even have horrible small milk spots that I've had since I was a child. If I'm truthful, my skin is one of th
e things I'd HAVE to change if I ever came into vast amounts of money. Anyway, what I was meaning to say is my excuse for buying such expensive make up is the fact my skin reacts badly to anything cheap so I need to buy nice good stuff as to not make my face any worse than it is. I'm a sucker for high end brands anyway and I can't remember the last time I owned anything high street (although I do recomm
end L'Oreals True Ma
tch range, before I could afford anything expensive I swore by this and to all the girls with sensitive skin, this does wonders!)
I have two sets of make up, I have my every day make up that I keep in my handbag and then I have my not so regular use make up which stays on my dressing table. This generally includes anything shimmery that I use one a night out, my make up brushes, my MAC pallet and lipglosses. I don't tend to wear lipgloss on a regular basis as I'm not a huge fan of shiny lips and I prefer to keep it matte during the day. Today's Sunday Self Secrets is going to be looking at what's in my make up bag that I use every day, and it's not pretty.. the amount I use to pass for normal looking to leave the house is quite upsetting!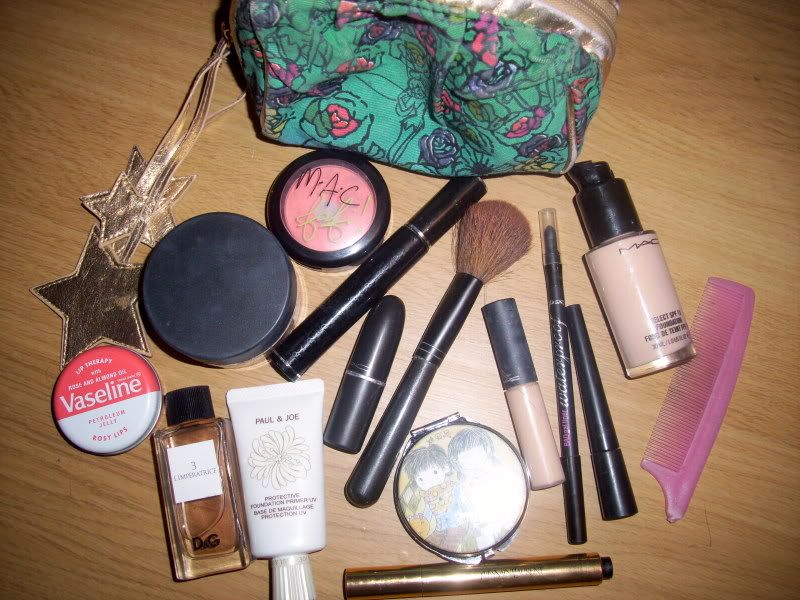 As I said, it is quite a lot more than I'd like. I wish more than anything I was a natural beauty, but I'm just not. Without eyeliner my eyes sink into my face, without my illuminating concealer under my eyes I look like I haven't slept in weeks, without some colour on my lips you can see how chapped they are. I don't believe in fake tan, or caked on foundation but I do have to wear something, and here it is.

My little mirror is from a stall in Camden and cost £2.50 (well two for £5, my best friend has the other one). The comb with the broken tail end is from Boots, I snapped the tail end off so it would fit in a tiny clutch bag on a night out. My blusher brush is a cheap one but it's so soft it and hasn't fallen apart in over a year, it's as good as an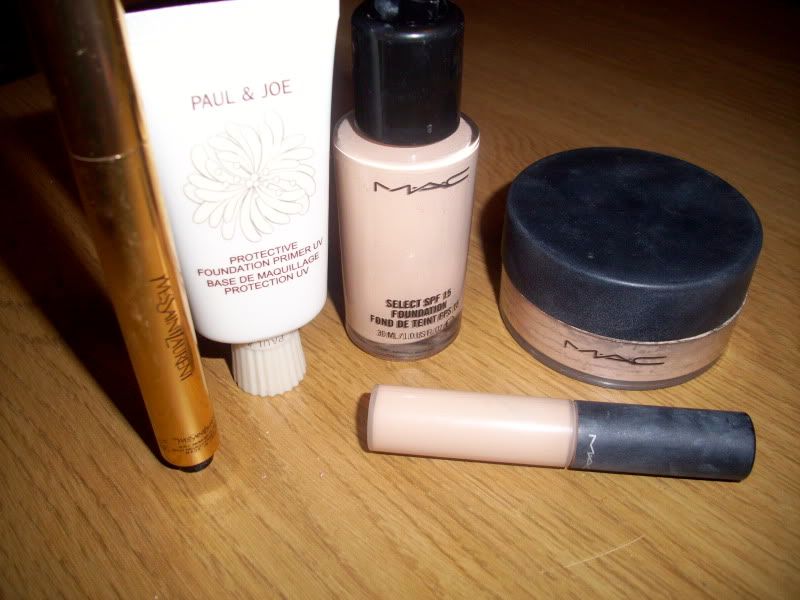 expensive one! And my
perfume is D&G L'Imperatrice which smells deliciously fruity, everyone always compliments it at work. For an every day face I use Paul & Joe's Primer (£15.75), it has spf 40 which I must wear due to my very pale skin. This is a recent buy that I am doing a review on but it is amazing and smells really good. MAC Select Foundation (£19) & Moisturecover concealer (£12.50) in NW15, as I mentioned before I don't like my make up to be caked on and I found studio fix and studio sculpt to be far to heavy for me, select in the concealer an
d foundation is a perfect combination and covers my skin flawlessly. For under my eyes I swear by YSL Touche Ecalt (£19.75) in shade one, this is my third one and I use it religiously. It also blends perfectly with my foundation. As a finishing touch
I use MAC's loose powder (£17). It's a bit messy but again I use it because it's not heavy on my skin and just gives me that matte lo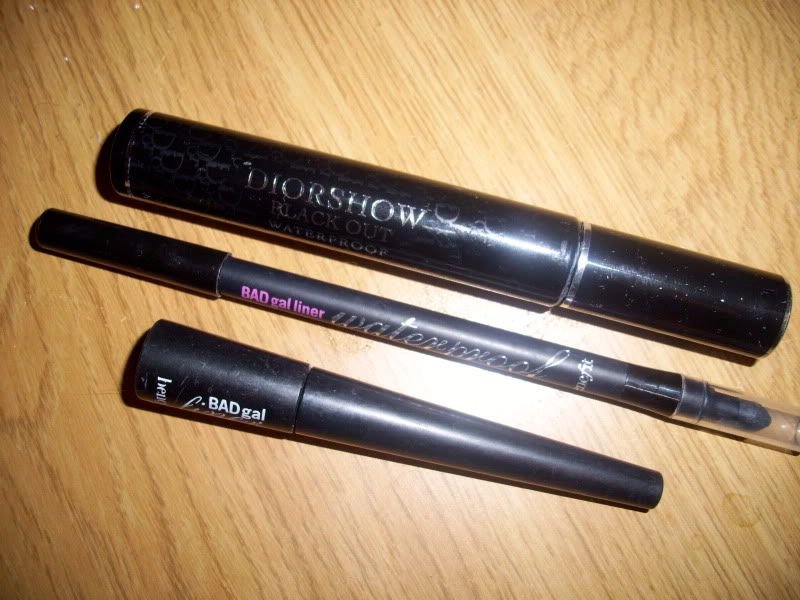 o
k I love so much. I used to apply it with a brush but I have just ordered
an empty compact from Lily Lolo (£9) to try and reduce the mess this makes when i'm in the hurry (or applying in the car when I've slept in for work).

On my eyes depending on how I'm feeling I may choose to use pencil
or liquid eyeliner. Both of mine are from Benefit's Bad Gal range. The liquid eyeliner was only available once in a Christmas gift pack along with mascara and the chunky eyeliner, neither of which I particular liked however I did love the liquid eyeliner which has lasted me over a year. I'll be very sorry when it runs out. I recently purchased the new waterproof
Bad Gal eyeliner (£14) from Fenwicks and so far I'm impressed. It stays on my eyes all day however it does smudge easily, I don't mind that too much because it gives t
he smokey look. The only draw back is it needs sharpened often because it is gel rather than khol. Look out for the full review of this product coming soon. I am a newbie to mascara as I don't really need it having brown eyelashes, however of the few I've used Dior Show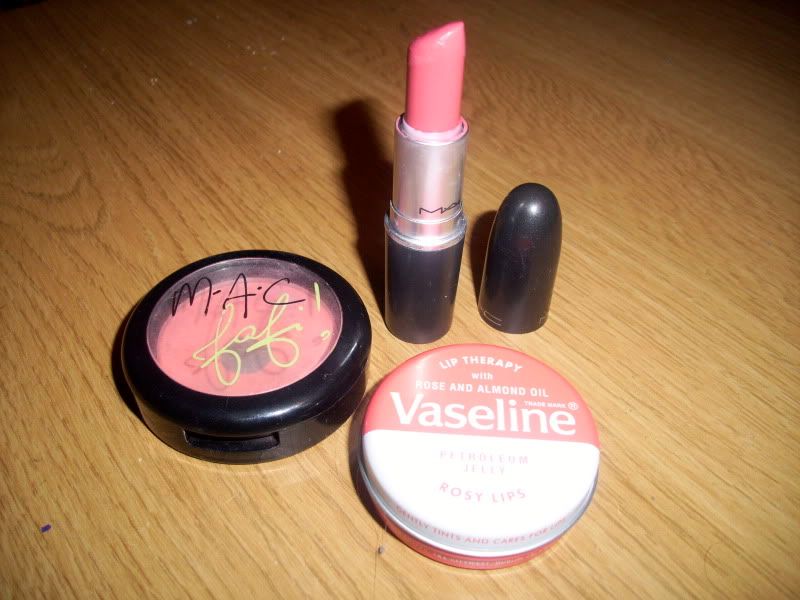 Blackout Mascara (£21.50) is the best. It's thick and excellent at defining eyelashes.


To add a bit of colour my every day pallet is pink. As I've mentioned before I don't like using lipgloss during the day because a) it's too shiny and b) I don't like the sticky factor. So instead I use my all t
ime favourite MAC lipstick Chatterbox (£12.50) it's an amplified cream and goes on so smoothly especially if I put a lipbalm underneath. In the winter my lips are often chapped and I find amplified cream by MAC the best lipstick to use. Over the top of the lipstick I use Vaseline's rosy lips (£1.49) the colours of these blend perfectly and it just keeps the lipstick in place. On my cheeks I love my Hipness blush from the Fafi Collection by MAC (£16.50), it's a gorgeous coral pink. I'm quite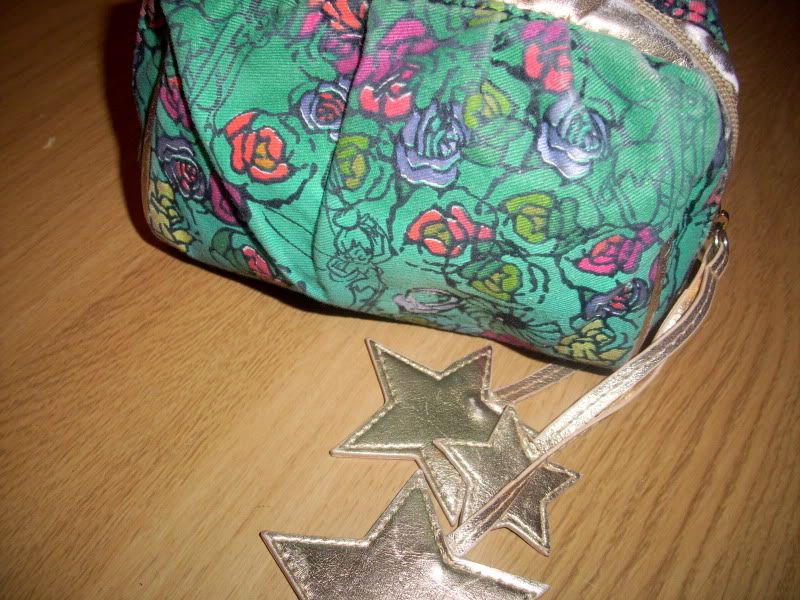 upset it's nearly finished as I don't think I'll be able to replace it and
wh
en that happens I think I'll give Nars Orgasm a go.
Of everything make up related, my make up bag is my favourite. It's by Loop NYC for Disney Couture and I bought it from Urban Outfitters. The best part of it all it was £20 down to £5! It has Tinkerbelle on it, you can just see her in the picture. It is a great size but when zipped up it pulls everything in making it a good size to keep in the handbag. It's a bit grubby now and could do with a was but I'm afraid it'll ruin it!

What are everyone else's every day essentials in their make up bag? I'm always interested to know if everyone needs as much as me to keep them pretty, according to Calvin Klein who claims "

the best thing is to look natural, but it takes make up to look natural

" everyone does!



Next week

'My favourite things'