Today I received the yearly text from my mother of "What are you wanting this year?". On Sunday it'll be four weeks until my twenty second birthday. I have to admit that I'm not looking forward to twenty two. I've always considered twenty two as a "grown up" age, I have no idea why it just sounds older. I am however looking forward to my actual birthday which is being planned by my best friend. I had quite a lonely twenty first as I spent it with the boys friends, since none of my own friends could make it. This year I'm goin
g down to stay with my best friend and she's invited my other two closest friends in the evening for drinks. Quiet, simple but perfect to me ,as I'll be spending it with my four favourite people. During the day we're going for a meal to Damons, where I plan to have delicious food and cocktails.

So, now to the pressing questions, what am I asking for this year? I have t
o admit, it has been difficult this year because I had to think what I would like from my parents and from the boy. He has given up being imaginative after three years and prefers to be told what to get. And my parents do not believe in giving money (however I did get money for my twenty first so it's especially important for my mum to have something to wrap up this year) so I had to think of a few gifts to ask them for. I've spent the evening thinking and have finally come up with what I would like, starting with what I'm asking my parents for.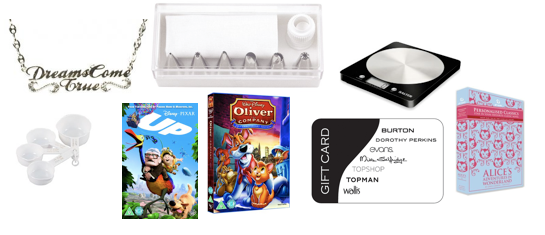 L-R
Truffle Shuffle
Disney Couture Necklace @ £28, Amazon Icing Bag Set @ £7.24, Amazon Electronic Scales @ £13.98
Amazon Measuring Cups @ £2.95, Up DVD @ £9.98, Oliver and Company DVD @ £7.78 (both from amazon cheapest price), Arcadia Gift Card, Alice in Wonderland Personalised Classics @ £14.99


I've asked for a lot of baking things as my kitchen equipment is just the basics, made up of a lot of hand me downs from my family. My old plastic asda scales have recently bit the dust so I thought i'd ask for some electronic ones too. I'm asking for an arcadia gift card so I'll be able to get some bits off of my spring wish list.
And I'm asking the other half for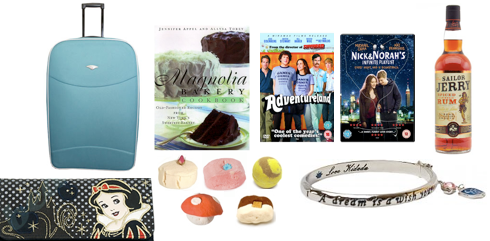 L - R Tj Hughes Duck Egg Suitcase @ £22, Magnolia Bakery Cookbook @ £10, Adventureland DVD @ £9.38 (last three from Amazon, cheapest price), Sailor Jerrys Spiced Rum
Loungefly Snow White Wallet @ £26.99, Selection of Lush Products, Truffle Shuffle Disney Couture Bracelet @ £30

I'm so pleased with everything i've picked out. It passed the day looking for the perfect things. If I'm lucky enough to receive all of these gifts it will be amazing but I know I'll be happy if I only receive a few. I'm such a sucker for Disney, incase you hadn't guessed.
I was torn between the Magnolia Bakery cookbook and the Hummingbird Bakery cookbook but since we visited Magnolia Bakery in NYC last June I thought it has more sentimental value.

I hope everyone's week is going well, mine is going wonderful and I feel so content at the moment. I'm looking forward to settling down with the boy with some home made chili and watching our favourite american tv online. Tomorrow I'll be bringing you my review of The Princess and the Frog as we're making the most of orange wednesdays. Much love.