Is it just me or did January last forever? I could feel myself getting more and more miserable as time passed and I have to admit when the calender finally flipped over to February, I felt a little bit a hope. Finally we are moving closer to a little bit of sunshine! And with the promise of spring comes the thought of the spring/summer wardrobe. And this year I am excited. Nautical, lace, florals, polka dot and ditzy patterns and pastel colours! Coral and mint green are two of my favourite colours and I'm looking forward to wearing them.

Here is a few of my favourites that I hope to purchase over the new few months. I'm so incredibly lucky my twenty second birthday falls in March so maybe I'll be lucky and receive some as gifts.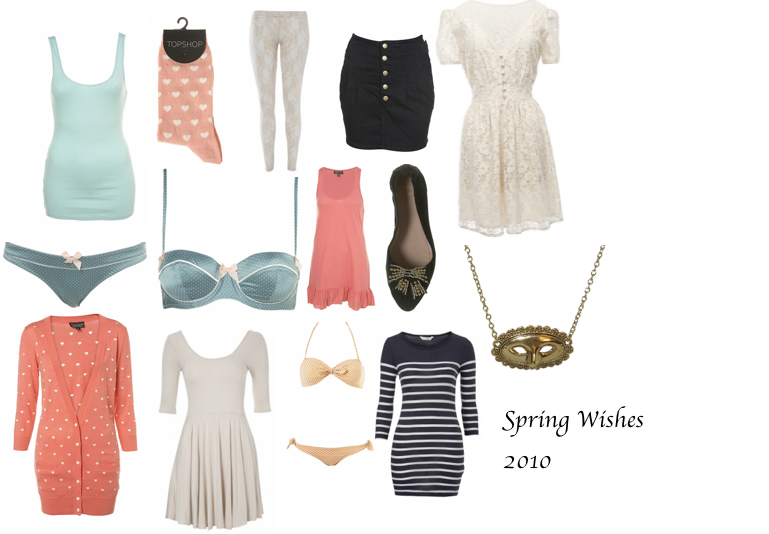 L-R Topshop Vest @ £6, Topshop Heart Socks @ £3, New Look Lace Leggings @ £14, Topshop High Waist Skirt @ £30, Primark Lace Dress @ £15

Topshop Pants & Bra Set @ £6/£16, Topshop Ruffle Hem Vest @ £14, Topshop Bow Pumps @ £28, Elsiebelle Masquerade Necklace @ £11.95

Topshop Heart Cardigan @ £35, New Look Skater Dress @ £16, Topshop Dobby Spot Bikini @ £25, New Look Nautical Tunic @ £10
I've been really impressed by New Look lately. The lovely Emma Jane over at Plum Dressing
inspired me to pay a visit after seeing she got heart print tights for a meer £4 instead of the £8 Topshop is charging. I called in but couldn't find the tights however I did see the gorgeous skater dress and the lace leggings. I also feel I need a nautical tunic. The lace dress is a total bargin in Primark. I've been looking on Instyle at all Primark's spring/summer 2010 collection
and I am really excited by some of the items due in store at the end of March, including a straw boater I must get myself! Topshop as always has some gorgeous things I always feel I need. My favourite being the bikini that I would love to wear on holiday this summer, I may have to ask my parents for it for my birthday. The things I know will be buying is the vest top and the socks. The necklace is from my new favourite online jewellery store, Elsiebelle. I really do insit you check her out!