Starting today I have created the "

Sunday Self Secrets

" part of my blog. Every Sunday possible I'll let the world see a little part of my life. Starting today with my handbag.

According to Kathy Eisman, author of
How to Tell a Woman By Her Handbag
the best way to tell what a woman is like is not by her eyes, or how she dresses but by her bag and it's contents. Could this be true? Do the sec
rets of our personalities lie within what style of bag we choose and it's contents? I don't know about anyone else but I'm not 100% bought by this theor
y, as my bag and my purse often changes with mood or what is practical. For example I don't take a tote on a night out. I do however h
ave one main handbag that I kee
p my e
very day contents in and that is what I'
m going to share today.

I don't exactly know what my handbag tells people, perhaps that I'm boring because it's just one colour? Or maybe the fact my purse is tartin patterned people could assume I'm frumpy and old lady like? Who knows, but I'll let you all make your own assumptions of who I am from my handbag rather than I tell you who I am. For the time being anyway.
This is my handbag and it's every day contents. Sometimes it has other stuff in, such as my gloves, or voucher codes for restaurants, or if I'
m
goi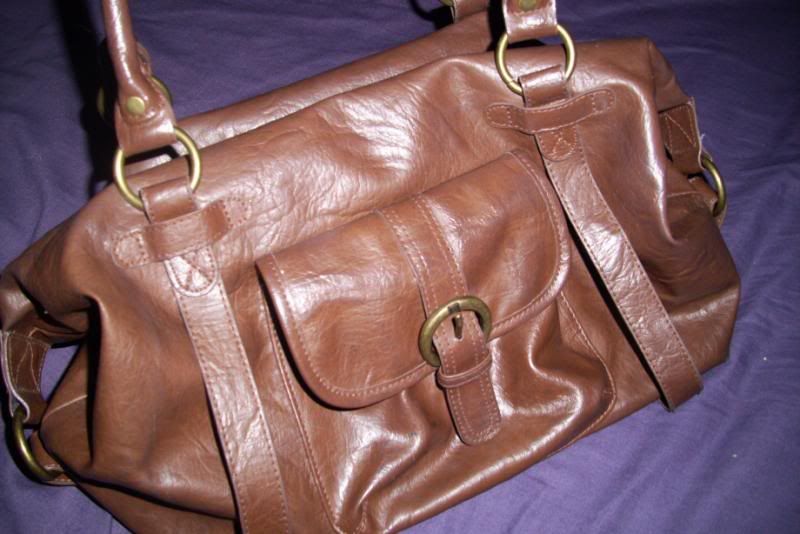 ng on the train I also have the book I'm currently reading.
My handbag itself was a Christmas present from my parents but I did pick it out. I'm a firm believer in having a bag that goes with every outfit and a tan coloured satchel han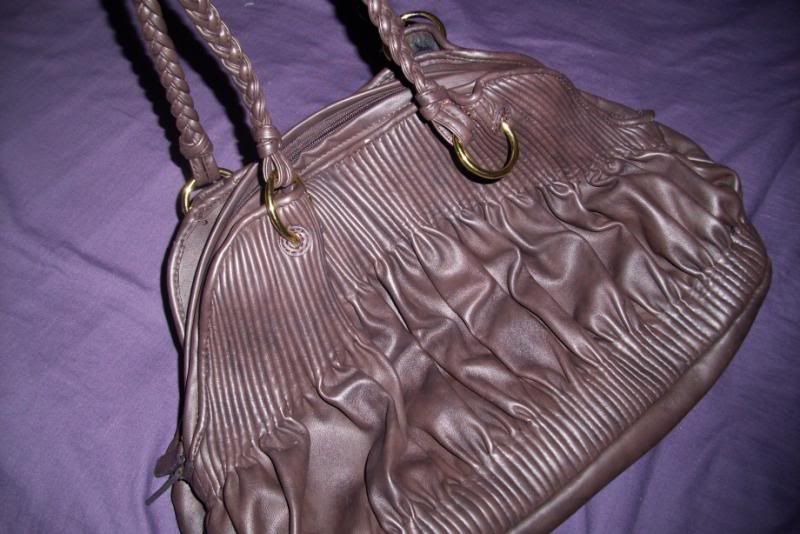 dbag was just perfect. It was £28 which I thought was reasonable enough for an ever
y day b
ag. It isn't real leather, or have any leather
in it so it would be perfect for the vegans of you out there. The strap is just l
ong enough that it fits comfortably on my sho
ulder and not to heavy to carry it on my arm. This one here is my old handbag. It was a lovely soft buttery fake leather, it was great but had no pockets on the inside or the outside so everything kept getting lost in it. It was from Muse (part of the Arcadia group) for £20. I've kept a hold of it in
case my new bag breaks.

Inside my bag I carry a lot of stuff, but thankfully it's not heavy. Firstly I have my make up bag, it's Loop for Disney Couture and from Urban Outfitters. It cost a meer £5 and I love it. More on that next week. I have my diary which is hand made from a local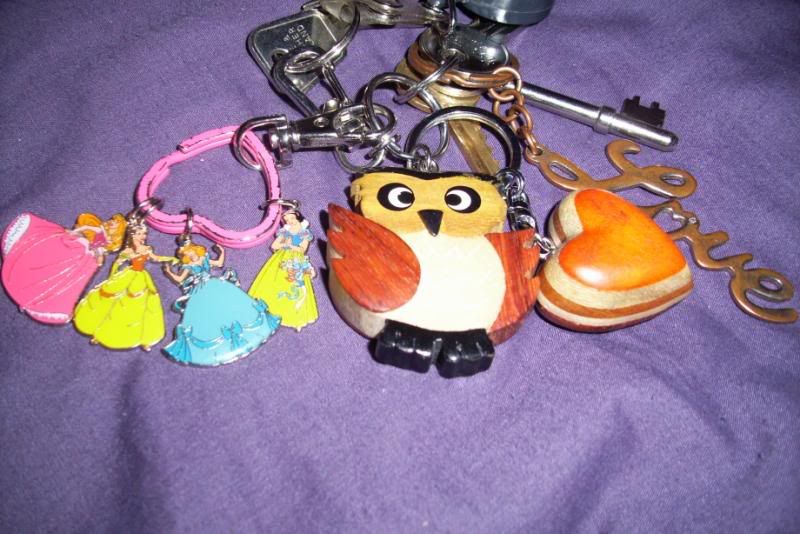 shop and was £2.99, a notebook that was a gift from a friend and my passport for ID. I also have 3 pens to use at w
o
rk. My glasses, which are French Connection but I only use th
em for the cinema. Then my big bunch of keys. The key rings on it are special as they're all from important people in my life. The Disney heart with the princesses on were was brought back from Disneyland Paris by my best friend, the owl I bought in Rhodes on my first holiday with my boyfriend, the heart was bought in Greece by my mum and the Sex and the City in
spired LOVE keyring was bought as a Valentines day gift last year by my boyfriend. I rarely us
e my keys because the boy uses his since the car keys are on it but I like to have them in my bag just incase. Next is my Blackberry Curve which I never go anywhere without and of course my purse. This is just a temporary purse because I haven't found a perfect one yet. It's from Topshop and was £7 in the Christmas sale. I like it because it has a place for coins, a photo and lots of room for cards. The one fault with it is that sometimes the cards are difficult to get out, but mayb
e that's my stubby fingers. Another one of my prized posessions is my ipod. It's an 8GB nano (not the one with a camera, the one before) in pu
rple and it was a gift from my boyfriend for my 21st last year. The best part of it though is my owl ipod case! It was £10 from Paperchase and I love it! I also have a purple ipod sock to keep the screen clean. With living in England it's essential to to carry an umbrella, even in the summer because it always seems to rain. My umbrella is floral with a frilly edge and is originally from Accessorize, however I bought it on a thrift community on Livejournal. I also make sure I carry my e45 for chapped skin, likewise with my lipbalm and vasline. I swear by vaseline rose as it gives my lips a pinkish tint if I don't have any lipgloss. Finally, I always have mints, mainly because at work I often do double shifts and since I work in an Italian restaurant everything is laced in garlic, a garlic smelling barmaid does not earn many tips, trust me.



Next Week

'The Make Up Bag'