I apologise now for the fact my Sunday Self Secrets is late this week, but I was a little preoccupied last night with what is being this weeks Sunday Self Secrets,

Valentines

Day.

In the words of Elizabeth Barrett Browning, "
I love thee to the depth and breadth and height my soul can reach

"
which is
how I feel
about my loving boyfriend who spoiled me so much last night. I had t
o
w
ork du
ring t
he d
ay from 10:30 until 5:30, and it was very crazy with it
also being Chinese New Year (I work just behing Newcastle's China Town) and Valentines Day, so I
came home very grumpy and exhausted. He had me locked away in our bedroom while he d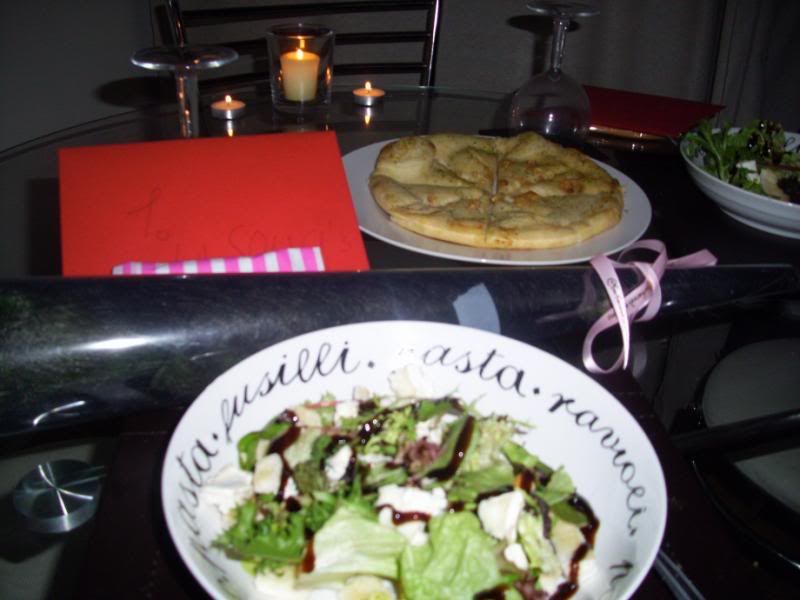 id some preparation. When he came to collect me he was wearing a shirt and lead me through our flat, it was pitch b
lack but he lit a little path way with tea lights. It was so romantic!
He had a mix tape playing that I had made for his stocking the first Christmas we had together (he never plays romantic m
usic, it was great). All along the sideboard he had my yankee ca
ndles in wrapped in tin foil so they didn't melt onto the wood work. On the
table he had my card, a
single rose
and my p
r
esent. He'd made a goats cheese salad for starters a
s
th
e Sainsburys meal we had didn't include o
ne. I'm a huge fan of goats cheese
and balsamic vinegar salad, he'd even made
his own home made croutons. I had also
bought a garlic
bread p
izza
to go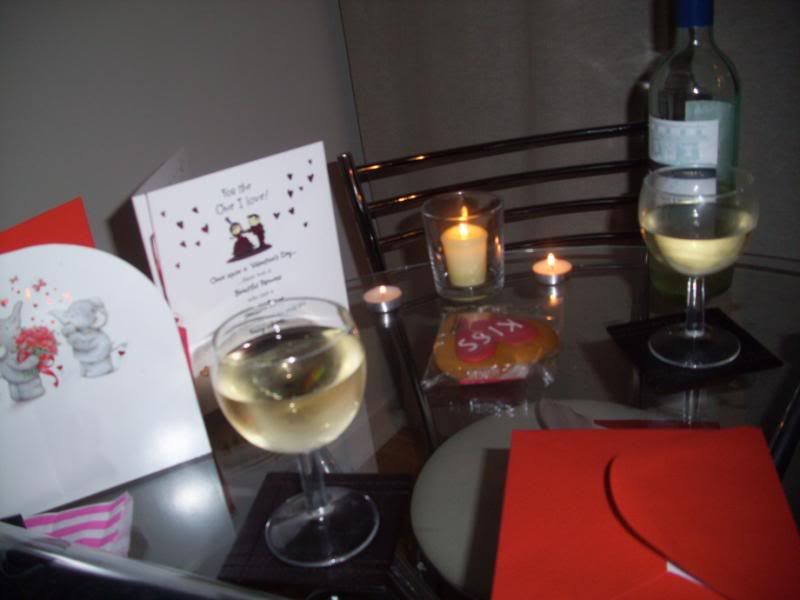 with the salad, it was
from Tescos and was
just like
the kind you get at Zizzis. I
t was
delicious. We were also drinking the
pinot greigo that we got with
t
he meal, it's one of
my favs. For mains we had a paella that was
really delicious but in my opinion it was more cream base like a risotto. Still nice though even with the peas. The chicken and king prawns
were my f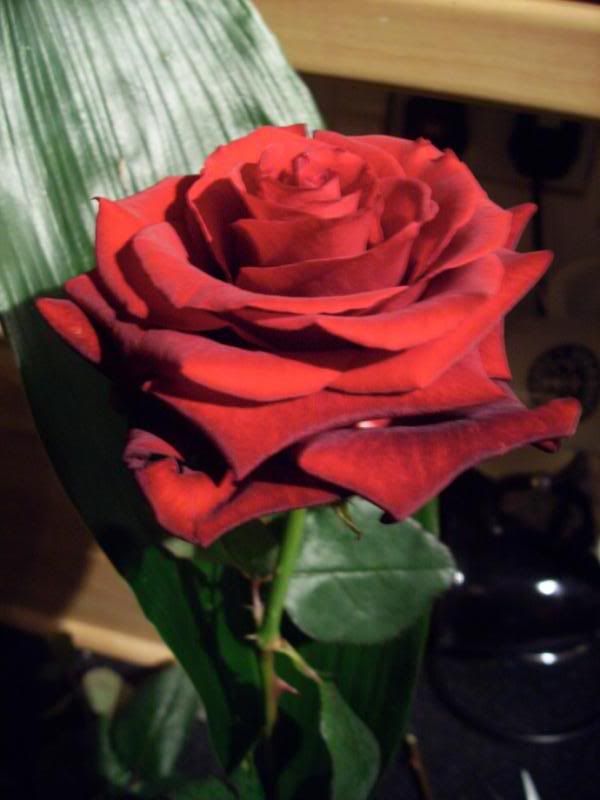 avourites. For dessert we
had stawberry cheese cake which was so delicious def my f
avourite part of the meal. I en
ded up being too busy eating to take a picture. We
dr
ank the whole bottle of wine with the meal so we moved o
nto the
frescati while
we opened our cards and my present. I loved the card I got
my boyfriend, it was about a fairytale couple which is perfect for us. I also got him a gingerbread cookie. He however, along with a si
ngle red rose got me an Elsie Belle necklace, the one I'd been lusting after for so long, the Cinderella carriage. I ga
ve him links to three necklaces and he chose this one. He really does know me. I got
him How I Met Your Mother Season 2 on DVD, I preordered it for him and we've been busy w
atchi
n
g it since Saturday night.

Without a doubt it was the best Valentines day ever. I always have to work because of the trade I'm in so usually I have to something before or after it (this is the third one I've had someone with well with Paddy, the year before it I'd just been dumped so I was happy to work it). It was lovely to do something on the day and I'm so glad I managed to get the evening off eve
n if we were too broke to go out. My boyfriend and I had a great night and I did enjoy being spoilt for once and have some food made for me. I hope everyone else had a great night and you all enjoyed this weeks Sunday Self Secret.