When life is getting me down, I always retreat to the kitchen and whip up something wonderful for dinner. Or I bake. Tonight I cooked.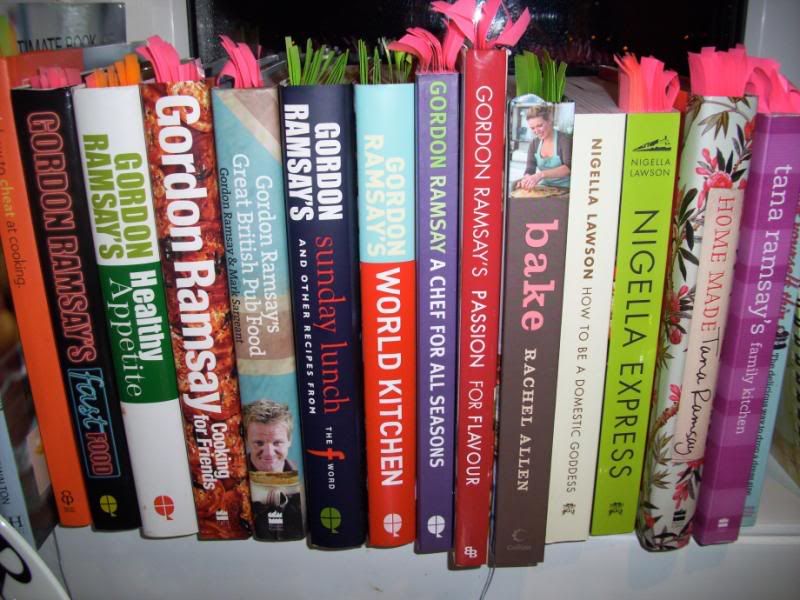 I love a cookery book and my parents always get me a few for a birthday or for Christmas and now my inlaws have started too. They are some of my most prized possessions. I'm a big Gordon Ramsay fan and although the recipes are a little complicated I usually edit them so I can make them to my liking. All the little bits of paper are of recipes I use quite often.
Being ex students, with
big overdrafts the boy and I tend to live on
a budget but I still manage to
surprise myself with what I can make with very little.
So tonight, here is my meal on a budget. It would be perfect if you're not going o
ut for

valentines

day and you want to surprise your other half with something delicious (but you don't want to be so full you can't do anything else, if you know what I mean!) it's easy, simple and doesn't take much work.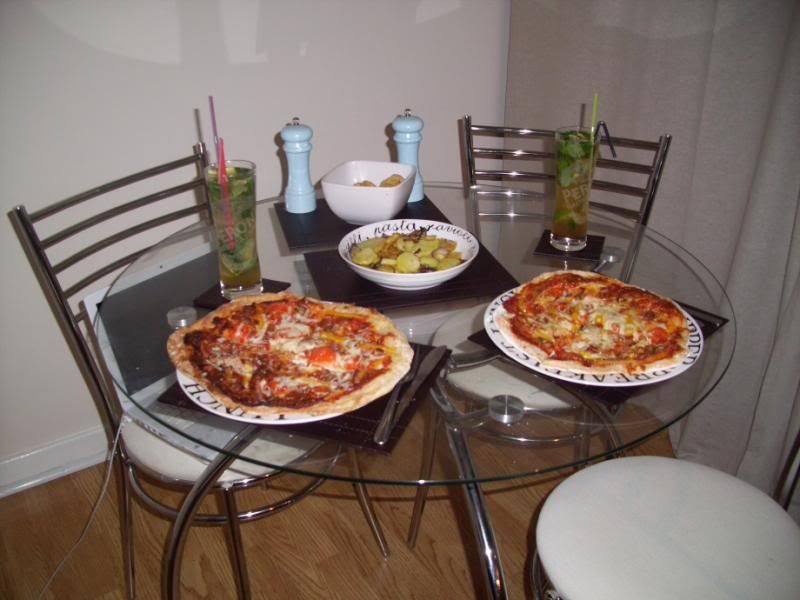 Presenting

Homemade Pizzas with Oven Sauteed Potatoes and Homemade Dough Balls
Starting with the potatoes. This is a recipe based on Delia Smith's oven-sautéed potatoes with red onion, garlic & rosemary in her How to Cheat cookbook but I prefer to do it with fresh ingredients. First peel the potatoes. For two people I used three largish rooster potatoes chopped into round slices. Then part boil them so
once baked they will be soft in the middle. Once boiled put them on a baking tray and spray them with fry light
(you c
an use regular oil if you wish) and put them in the oven. While these are in I prepare the pizza base. I use Sai
nsburys own pizza base box mix which is only 69p for two mixes. Bargin. Once the base is prepared,
I divide the mixture into three, two to make pizzas and a third to make the dough balls. Then roll it out as thin as you'd like. The boy likes his quite thick where I prefer mine very thin. Then I mix some tomato
puree with garlic and mixed
herbs to make the pizza sauce (you can buy your own already pre mixed pizza sauce if you prefer) and spread it over the base. Top this with cheese then select what toppings you want for your pizza. Today we had mushrooms, peppers, parma ham and cherry tomatoes. Homemade pizzas are a great way to use up what you have spare in your fridge. Before
putting them in the oven, it's time to make the dough balls. Divide t
he
final chunk of pizza base up into small balls, roll them around in yo
ur hands until they're relatively round. I then used a skewer t
o make a hole in each dough ball which I filled with home made garlic butter. Garlic butter is so simple to make that I rarely buy garlic bread anymore and just make my own. In a dish spoon in some soft butter, add one small
spoon of garlic powder (powder works better in garlic butter than fresh) and add some dried herbs. Mix together until really soft (if you want a cheesy flavour add some parmsan) then I spooned some into each dough ball. With the remain butter I cover the dough balls before putting them onto a grease proof papered tray and then into the oven with the pizzas. Once everything is in the oven, chop half a red onion and separate each individual layer. Add this to a bowl with a crushed clove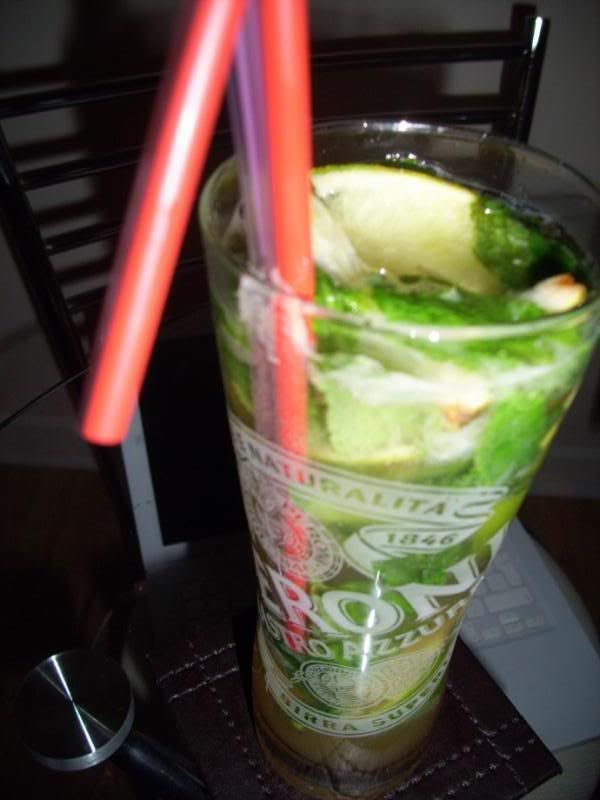 of garlic and two spoonfuls of olive oil (this time I used oil opposed to fry light) and some dried mixed herbs. Mix this together then spoon over the potatoes and return them to the oven until crisp. Remove from the oven when everything is brown and the cheese on the pizzas has melted, then serve.

To drink I made my infamous Sailor Jerry's mojito. I am a huge Sailor Jerry lover and it's always my drink of
choice when I'm out (either with diet coke, ginger ale or in a cocktail). Incase anyone is unsure what it is, it's a spiced rum with vanilla tones and usually retails for about £16. As I work behind a bar, the boy is always asking for sophisticated drinks and since I do it for a living I usually say no, but tonight along with our meal I treated him. Mojitos look complicated but are infact so easy and so delicious! You just need one lime per drink, some fresh mint, sugar syrup (you can buy this for under £2 in Sainsburys), soda water and rum. My rum of choice is of course Sailor Jerry. First, chop the lime into 8 slices and squeeze these into a glass then add 15 small leaves of mint (or 10 larger) and crush. To crush I use the end of a pizza cutter but any utensil with a flat end will do. Add a few ice cubes and mix together. Then pour over one shot of sailor jerrys and half a shot of sugar syrup. Mix again then top with soda, and that is all there is to it!

It all seemed to go down well and in return I was ran a deliciously hot lush infused bath (tonight an apple scented bubble bar from B Never too Busy to Be Beautiful and So White bath bomb from Lush's winter collection which also smells of apple). A happy night all round I think!