Once again, this weeks Sunday Self Secrets is late due to the fact on Sunday I was celebrating my twenty second birthday at my best friends house. She'd organized me the most wonderful birthday but to be honest I wouldn't expect anything less from her since she is the most wonderful best friend. Not only did we go out for lunch to Damon's but she threw me an Alice in Wonderland themed birthday party in the evening with some of the most important people to me attending. Because of this I'm going to dedicate this Sunday Self Secrets to my amazing party as it is something I'd love to have a memory of for those dull and lonely days.

I opened all my presents first thing in the morning helped by my best friends two beautiful daughters. I received a lot mor than I have over the past few birthdays, some of the high lights were champagne flavoured bubble bath, a new charm for my bracelet, a leather purse, paperchase photo frame and two beaut
iful bits of Disney Couture Jewellery the watch necklace from the boy & the key bracelet from my best friend, these are actually my two favourite bits from the collection!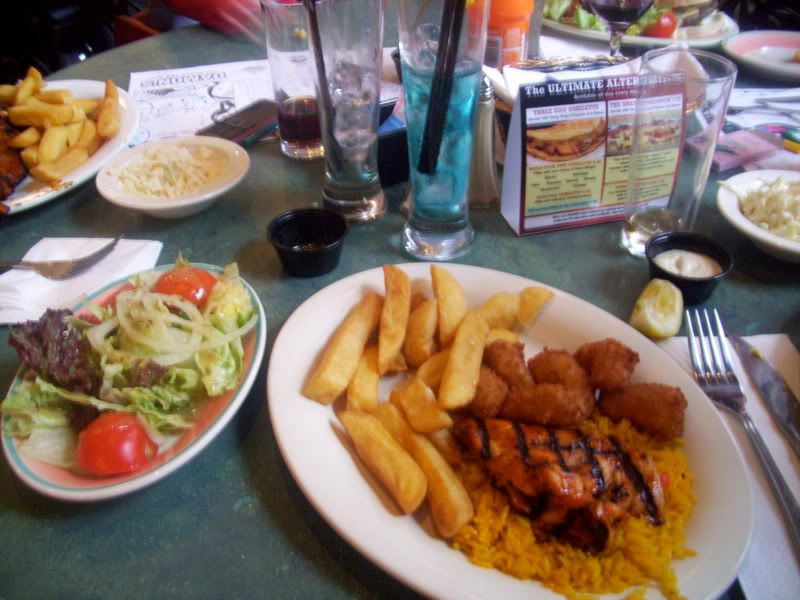 In the afternoon we went out for lunch, Damon's offers a free meal for the birthday girl and since
it w
as mothers day my best friend and her mother who also came received free cocktails. I also had a blue lagoon cocktail
to celebrate in style. The meal was delicious, I had a combo of bbq chicken breast with scampi, chips and salad. There was also this delicious rice that I could of ate a whole bowl of on it's own! I also received a free cake with a sparkler in it and everyone on my table only sang happy birthday to me. I was sort of glad of this with working in F&Bs I find the big birthday song incredibly humiliating but the small table only one at Damon's was lovely and intimate. I would recommend it to anyone! As I have mentioned before the food was excellent too, I sort of wish I had the ribs though as they looked amazing! And for what you get to eat, it's excellent value for money.

After the meal, the boy took me to Sainsburys to get some snacks and little did I know
my best friend was creating me my own Wonderland! Even though we arrived back before it was finished, I was completely taken by surprised especially by the fact the boy was in on it! He has never been able to keep anything a secret ever and I was bowled over that the two most important people had been conspiring behind my back! It was an amazing surprise though. Here are some of the highlights of Amy's Wonderland...


L-R Cheshire Cat Balloons, Delicious Spread with Bread & Butterflies and Cupcakes, Cards!
Paper Lanterns, Alice Cake with 22 Sparkler Candles, Directions in Wonderland, Cards & a Shroom!
There was also chess pieces, lots more cards, teapots with candles in, a big banner, flamingos & so much more! I feel so lucky to have such an amazing best friend who knows me so well! The wine flowed generously and I got stupidly drunk but it was my birthday! Not only was the boy and my best friend there but my friends from University and two of my other friends came over. We all drank copious amounts well into the night! It was the most excellent birthday I've ever had.
I know she'll be reading this since she has an excellent journal over at Film Bluff but I am so incredibly lucky to have her as a best friend. I hope she knows that!

I hope everyone had a lovely weekend! x