Yesterday while I was in the kitchen doing some preparation, my boy
friend came home from work and asked me "

what country are we visiting today?

" that's when I realized he's really
on board with this. It also made me laugh at how excited he seemed when I said Thailand. Thai food isn't something
we eat an awful lot of because it's so exotic and usually contains fruit or worse coconut. Anyone who knows me p
ersonally, will know I have a horrible aversion to coconut that stems back to being seventeen when I stupidly drank Malibu and Jack Daniels together, I'm sure you can imagine what happened next! Since then I haven't been able to stand the smell or taste. When I decided to do Thai style chicken sa
tay I knew this would be a challenge because all the recipes call for coconut milk. I could of done it without but where would the fun be in that!

Traditionally satay refers to a kebab with three pieces of marinated m
eat, satay itself means three pieces in some cultures. But of course the marinate is that infamous peanut flavoured sauce. Satay in Indonesia is a street food that is eaten with fingers as a snack
rather than a main meal. Before looking into
making my own satay I always thought it was a thick sauce like the kind I get from the Chinese take away, no c
oconut in sight! Different eastern cultures have their own recipes for satay
nowaday and no one really knows where it originally came from but I've decided to do a Thai version, which of course does have the coconut milk in like with a
lot of Thai dishes.

Here it is, dish number 2,

Thai Chicken Satay with Basmati Rice
.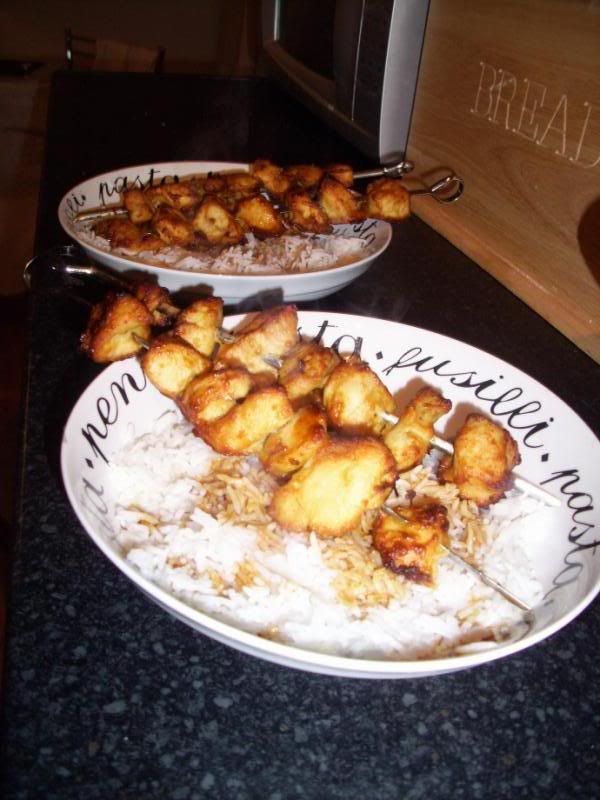 Unlike yesterday where I came home from work and cooked there and then, this recipe is all about the preparation hours earlier which does take a bit of time, then when it's time to cook it takes no more than 20 minutes (and most of those minutes are waiting on the chicken in the oven!)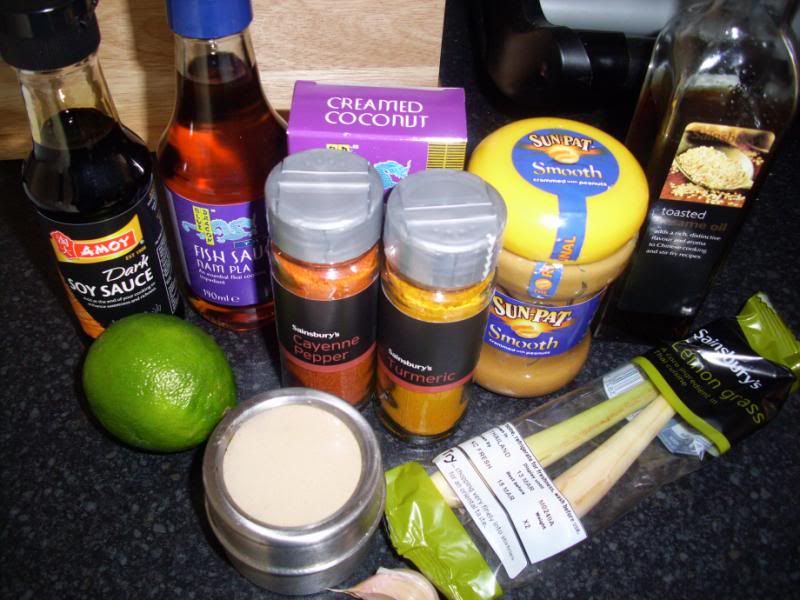 I decided not to foll
ow one particular satay recipe but instead to combine my favourite element
s from different thai ones i'd read but trying to keep the key elements.
I replaced the dry peanuts with peanut butter because we already had it in the
cupboard so the only two ingredients I did have to buy was the coconut and
the lemon grass. I bought solid coconut milk that you make up with hot water as it was cheaper and it meant I didn't have to use it all at once. The spices I used were cayenne pepper, tumeric and ginger. To make it more like a marinate I used soy sauce, fish sauce and seseme oil along with some fresh lime and garlic. The meat I used was three small
breasts of chicken chopped up into cubes and I served it over basmati rice. I'm currently addicted to microwav
e basmati by Veetee, currently Sainsburys are doing 3 packs for £3 and they serve two people at a time. They cook perfectly and are so light!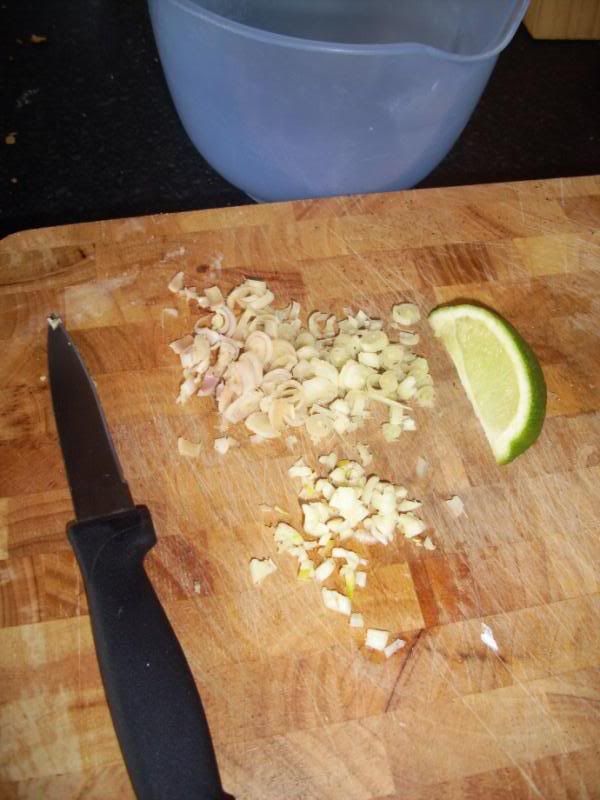 Firstly, I chopped one clove of garlic, one stem of lemon grass (remove the outer
leaves and chop of each end, much like an onion) and cut one wedge of lime. Then I put them in a mixing
bowl.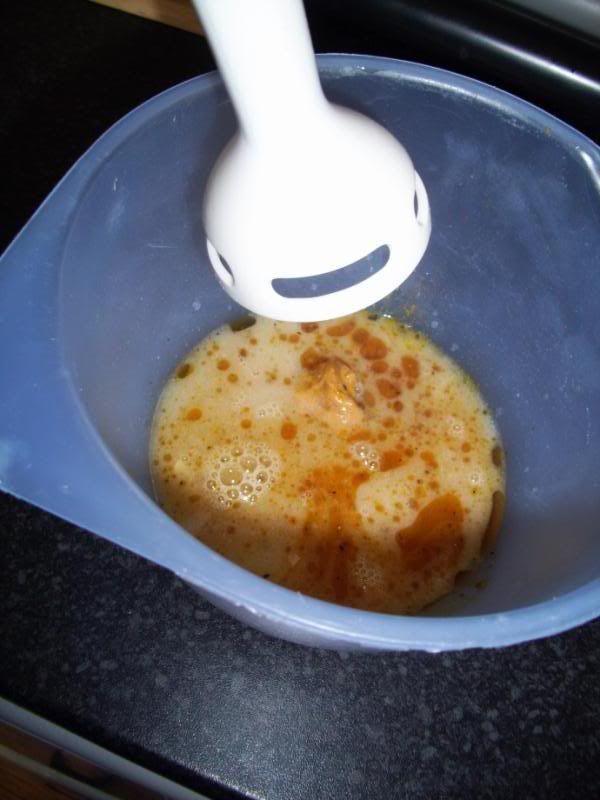 Into the bowl I added one small tea spoon of peanut buttter, two table spoons of soy sauce, one table spoon of fish sauce, one table spoon of seseme oil, 100mls of coconut milk, tumeric, ginger and salt. Using a hand blender I combined it all into it was lump free.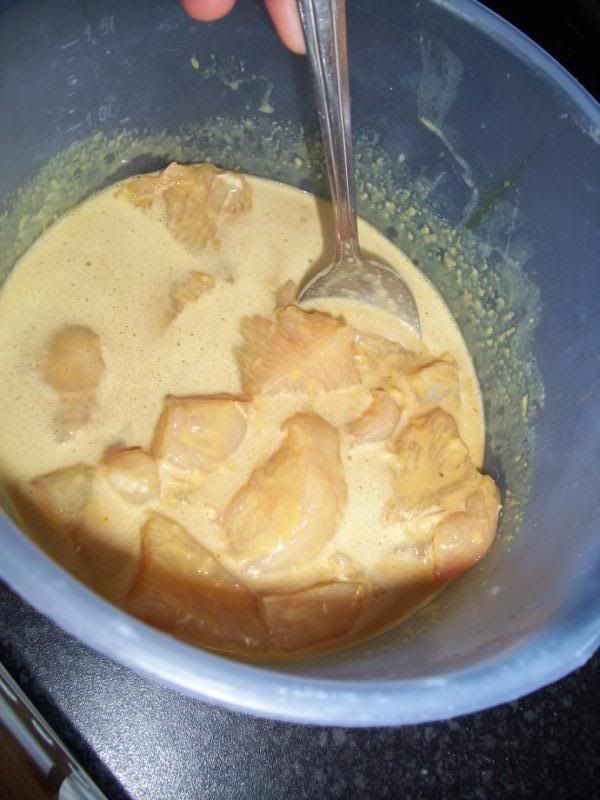 Add the chicken and stir until it is completely coated in marinate. Cover with clingfilm and put in the fridge for a few hours. I left mine for almost 3 hours and that seemed to work perfectly.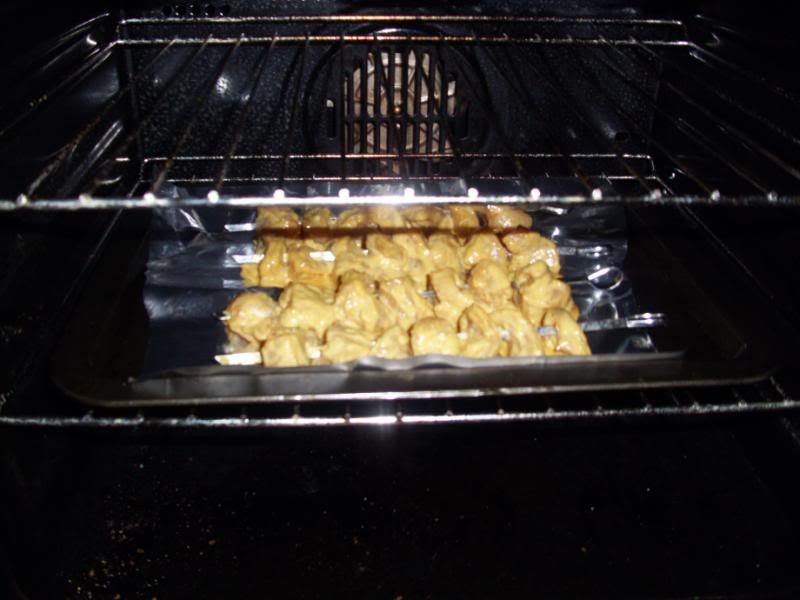 When it was time to make dinner, I removed the chicken from the fridge. The marinate had gone quite solid which worried me at first but it worked for the best. I skewered the chicke
n onto our kebab stick and put them in the over for 20 minutes occassionally removing them to turn them over so both sides brown.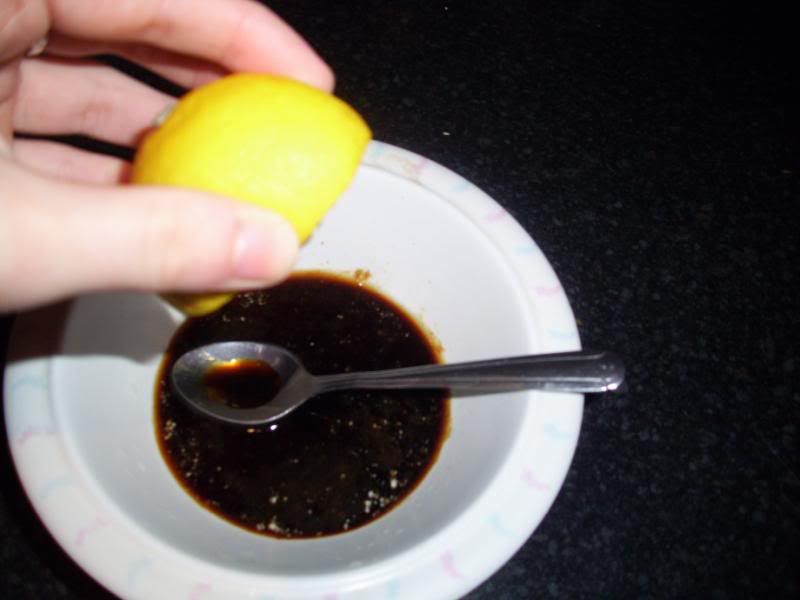 While the chicken was in the oven, I made a quick dressing since the boy hates dry rice. I just combined soy sauce with ginger and garlic and the juice of half a lemon. It's one of my favourites if i'm making a quick chinese rice dish as it's so easy to make and I always have the ingredients for it!
Finally, 2 minutes before the chicken is ready I microwave the rice, then it's ready to serve.
I have never made Thai food before and I was quite impressed with how it turned out. Very tasty and even though it was just rice and chicken it was very filling. However, if I was to make it again I'd have to pass on the coconut, the smell when it was cooking was the worst, it tasted fine on the chicken mixed with peanut and spice taste. It was also so much easier and quicker to make than I imagined it would be. I'm even looking forward to trying some more Thai dishes!
If you'd like to offer a country for me to create a recipe from or even a recipe you think I should try, please feel free on my project page for
Around the World in 80 Dishes. Everything I plan on cooking has elements of authentic and traditional recipes with my own personal twist.