I am a huge sucker for Mexican food, I think it's because it uses a lot of cheese, tomato and sour cream which is some of my favourite ingredients in cooking (which is probably the reason I cannot l
oose weight!). The first cook book I ever personally owned was a Mexican one that my mother gave me my Birthd
ay before I left home from uni. I'm sure it was how I taught myself to cook as for a long time I
could only make quesadil
las, fajitas, enchilladas, chili and corn soup along w
ith other simple Mexican recipes. So when I was looking at my cupboards trying to decide what to make this week and I saw we had some tortillas I thought it would be fun to go back to my cookery roots. Since we're trying to save money and I didn't really want to use some of our meat I decided on cheese quesadillas and to turn it from a street snack to a main meal I
looked up a good recipe for Mexican rice.

Quesadillas are a mexican snack food usually made of cheese in a flou
r t
ortilla cooked until the cheese has melted, quesadilla in spanish literally translates as cheese tortilla or chee
secake. The agreed way to make a Mexican quesadilla is for the tortilla to be folded however in the past I've always just
sandwiched two together but for a more authentic take (and I found it's also a lot less messy when flipping) I folded one in half. I was unable to find when they were first created but I'm sure the quesadilla has been around as long as tort
illas have
which is a long time!
Presenting, dish number 3 in Around the World in 80 Dishes, Quesadillas with Mexican Rice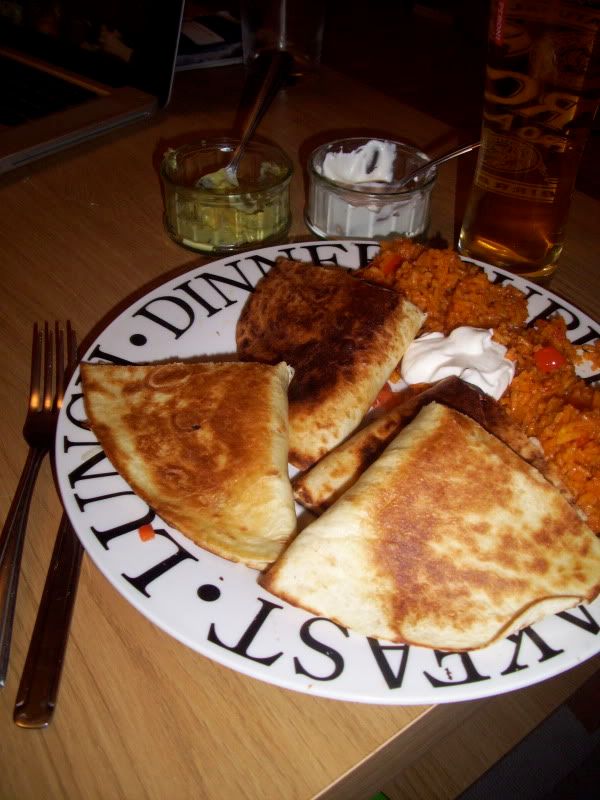 Quesadilla's themselves are very quick and easy to make but since I was also making rice, this dish took a little longer but it was all worth it, without the rice the boy would of wanted popcorn in the cinema and we just have no money for that sort of thing, ha!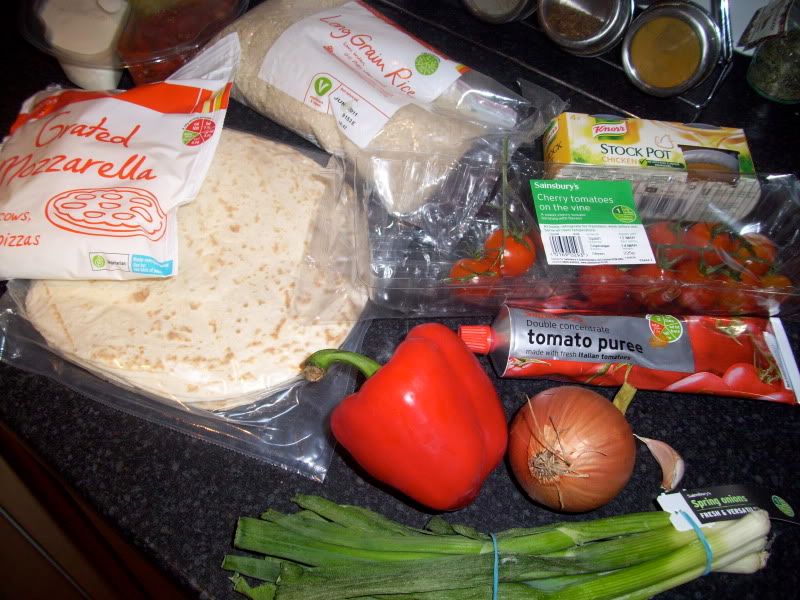 Ingredients wise the
only thing I had to go
out
and buy was the sour cr
eam and salsa, as everything else we just always have in our cupboard
s making it very simple and cheap to make. Long grain rice is a mu
st i
n Mexican cooking, in all the recipes I've seen for
a rice dish it always asks for this, luckily it's usually the cheapest in the store. Flour tortillas, it's up to you whether you use
wholegrain or white. Cheese, something that melts good, I opted for moz
zarella. Stock, I used these stock pots that my mum gave me
but you can use old fashioned powder stock. Fresh ingredien
ts I have tomatoes, a pepper, an onion, some spring onions and a clove of garlic. The pepper, onion & garlic are for the Mexican rice but the spring onions, tomatoes and the rest of the pepper is to go in the quesadilla with the cheese. You can choose anything really to go in your quesadilla, I think chicken and chorizo is a nice filling, either toget
her or seperately.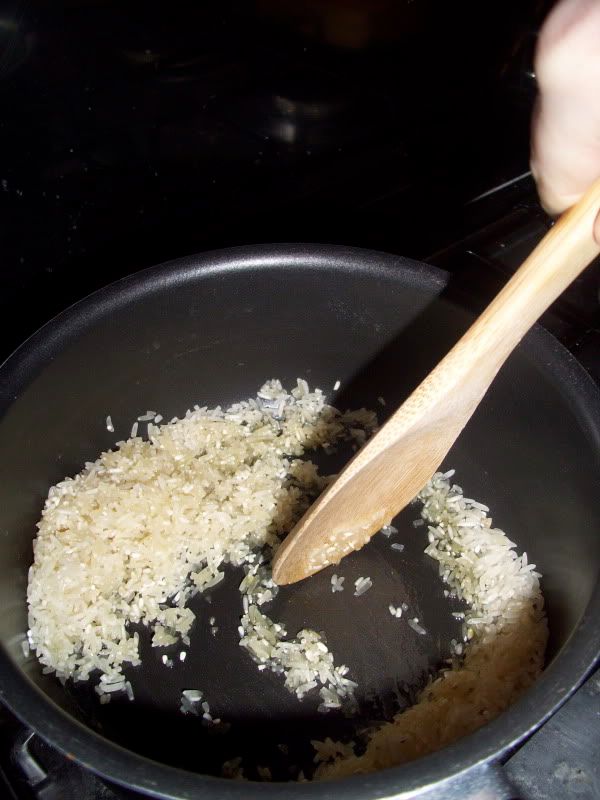 First thing to do is make the rice because that takes the longest. Heat some oil in a pan then add as much rice as you need for the amount your cooking for. I never measure exactly only by sight. Continue to stir until the rice begins to brown and puff out as it absorbs the oil. You have to keep stiring otherwise it burns.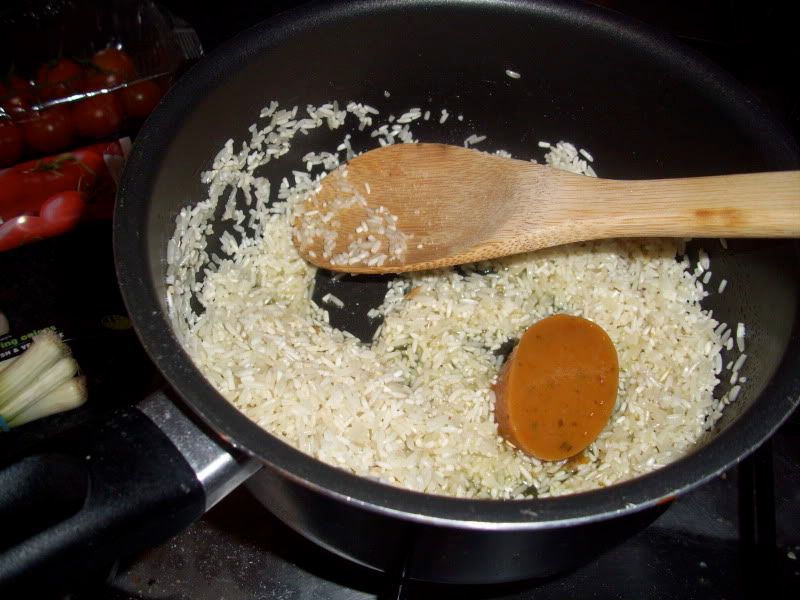 When the rice has started to brown add in the stock (of course if you have powdered stock, make it up as instructed and add to the rice) an stir until it's completely dissolved. Season with sal
t.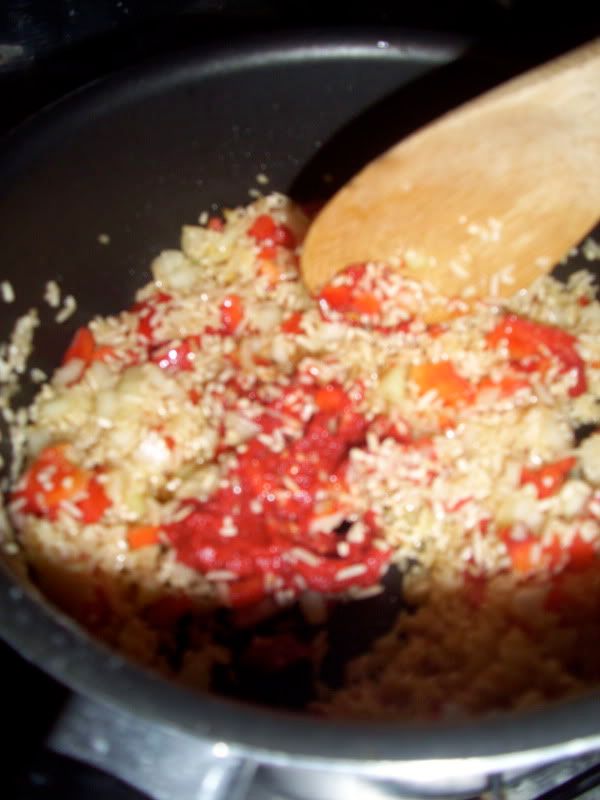 Sorry for the blurry photo, was rushing at this point! Next add in half an onion, half a red pepper and 2 table spoons of tomato puree. Now season with paprika, chili powder, tumeric, cumin
& a little bit of cayenne pepper. Stir until everything is completely mixed in and turn down the heat by half.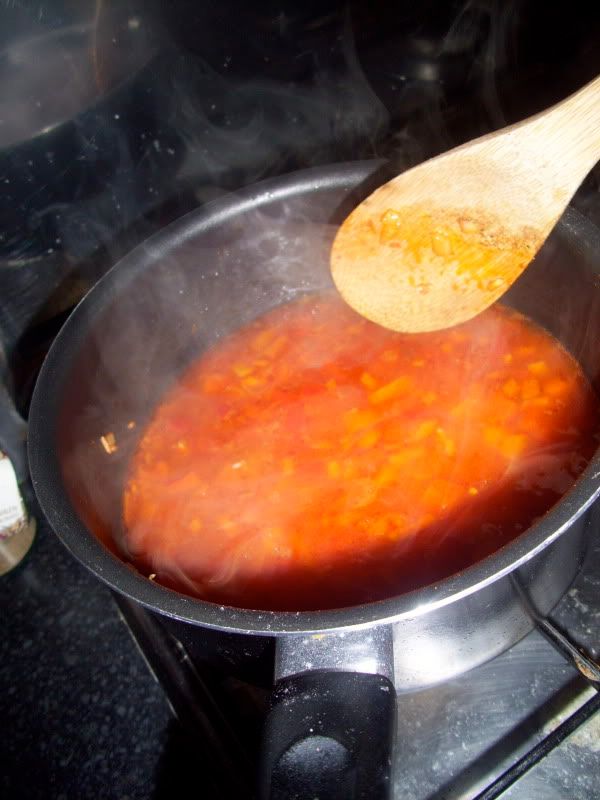 Add water, just enough so the rice is covered and put a lid on. Leave on low heat to cook.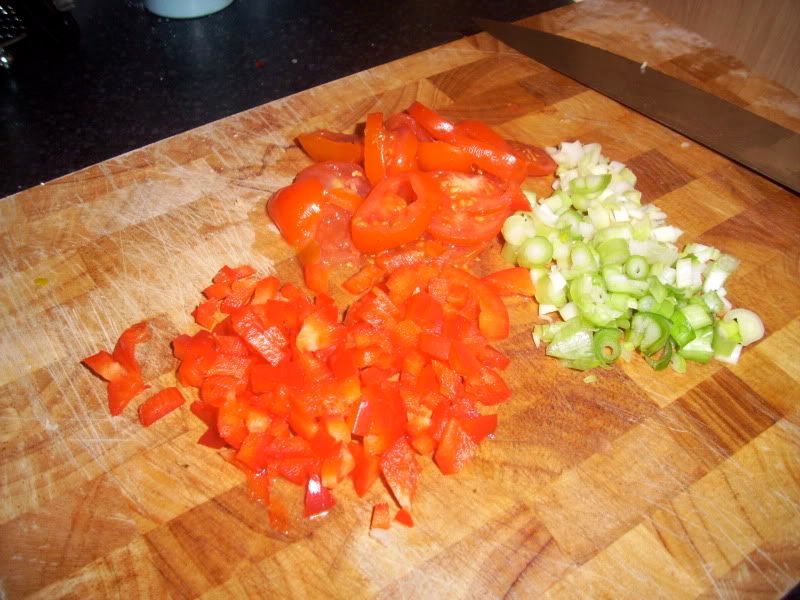 Next chop the rest of the pepper, three or four spring onions depending on how much you want and a few tomatoes. I used cherry tomatoes and chopped four of them into thin slices.
Heat each tortilla individually as needed for 30 seconds in the microwave. Reasons for this is you want them to stay warm so they're easier to fold and since like pancakes you can only m
ake them one at a time in the frying pan there is no sense heating them all at once.


Next make up your quesadilla. I always put salsa in mine, even if it's just salsa and cheese because otherwise I think it's a bit too dry. Spread the salsa over the whole of the tortilla then add the cheese and whatever topping your having onto only one side. This way it makes the tortilla so much easier to fold over.
Add a little oil to the frying pan and cook on both sides until the cheese is melted.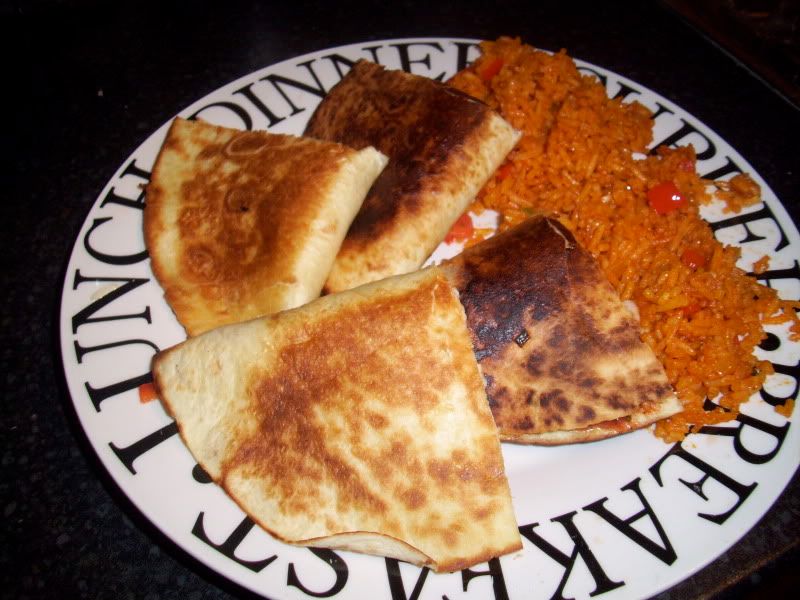 Serve with the quesadillas halved with some rice. I also filled two glass ramikins with some sour cream and guacamole to add as we pleased.
After clearing his plate I asked the boy which was his favorite dish so far and he said this, I agree completely especially with the rice because in the past my rice has never been perfect, it's either been bland or still water logged but this time it was just right. I even ate the left over rice yesterday as a burrito and it was still just as good.
If you'd like to offer a country for me to create a recipe from or even a recipe you think I should try, please feel free on my project page for
Around the World in 80 Dishes. Everything I plan on cooking has elements of authentic and traditional recipes with my own personal twist.