Last week I bought some meatballs reduced to 50p in

Sainsburys

and felt excited to use them for Around the World in 80 Dishes project however when I was doing research into the recipe I was disappointed to discover that this dish was

in fact

a combination of old Italian meatball recipe for

polpette

adde
d to spaghetti to please the

americans

. It first came about during the 19

th

century when South It
alian

immigrants w
ere making their way to the US. This is why this recipe in my project is given both the Italian and American heading.
Spaghetti and meatballs is such a simple recipe that I thought it
would be
an excellent way to ease into eating around the world. As I've mentioned above, I
used

pre

-made meatballs but its simple to make your own. All you need is minced meat (I usually use lean beef, but it does work with lamb, pork
or turkey), breadcrumbs, oil or eggs to bind, and herbs, spices and
seasoning to flavour. Last night however I finished work at 11pm so had to make something quick before the boy went to be
d (he claims he sleeps better on a full st
oma
ch but in my opinion he's just too lazy to cook for himself while I'm at work!)
So I present to you, dish number 1,

Spaghetti & Meatballs

,

se
r
ved

with homemade garlic bread.
This is not a recipe that has to use exactly what I use, it's a

prefere
nce

recipe and you can add whatever you want if you think it'll enhance it for you.

Starting with ingredients. I used m
y store bought meatballs which were 50p in

Sainsburys

,
since they were dated for that day I froze them and then

defroste
d them before use. I used linguine instead of spaghetti because that's w
hat we had in the house. Basic chopped tomatoes, great for cooking dishes like this with because your adding all the flavour. Tomato pure
e to

thicken

ing up the sauce. One onion and a clove of garlic, I personal
ly
feel there is nothing like fresh garlic for adding flavour. Soy sauce, I've always put it in tomato pasta dishes, I feel it gives it a bit of a kick
. Cherry tomatoes and fresh parsley. Instead of
cherry tomatoes you ca
n use peppers, mushrooms, sweetcorn, whatever takes your fancy really. I just feel adding something else always

gi
ves

the dish a bit more depth which is important for me since the boy takes a lot to fill up! Of cour
se

, herbs, spices and seasoning I haven't listed but will mention in the step by

ste
ps

.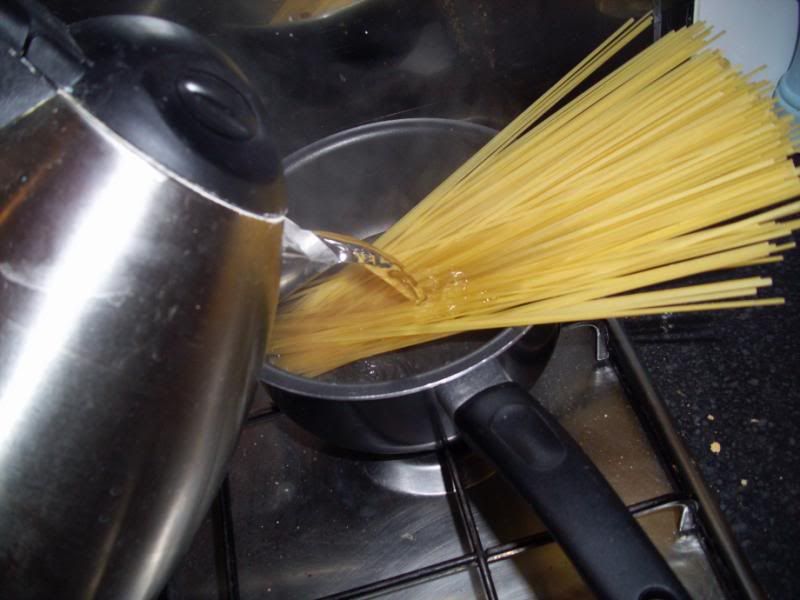 This isn't necessarily

everyones

step one, I just prefer my pasta to be very very soft so I always put it on first. The best way to cook anything of course is to follow the instructions on the back of the packet then add or subtract time depending on how you like it to be cooked. If you do like it so
ft

li
ke

I do, I recommend a good 20 minutes of cooking and if you need to don't be afraid to add more water. Place into a pan with b
oiling water and add some salt. Leave on a medium heat to cook.

Thinly chop the onion and add to a pan with the crushed garlic clove. Pour over some oil (or dry fry if you want to be healthy) and cook on a low heat until the onion starts to go soft. Every now and then stir to ensure that the onion and garlic don't burn or stick to the bottom of the pan.


While the onion is cooking, pour the chopped tomatoes into a bowl and add one to two large spoons of soy sauce depending on how you want this to taste. I then added some cayenne pepper, paprika,

Parmesan

, black pepper, salt & some dried

Italian

herbs I had left from when I was at uni and living on frozen mince, ha. Give it a good mix together.

Add the meatballs to the pan with the onion and garlic and stir so they don't stick to the bottom of the pan. Keep

stirring

until they're browning on all sides.
Add the tomato sauce and some tomato puree to thicken it then cover with a lid so the meatballs have time to cook

thoroughly

and the sauce will thicken more. Leave on a low heat so again nothing will stick to the bottom of the pan. This is so important if like me you're not using expensive non stick pans, ours just came from

Ikea

. They're working well so far but I'd rather not risk it.
Next quarter the cherry tomatoes and dice the parsley.

Leav
e on t
he chopping board while the meatballs and pasta cook.

Now to make the garlic bread. I personally believe you can't have pasta without garlic bread, I mean how are you going to mop up all that lovely left over sauce!? Since I had a spare moment while everything cooks I made my own. You can use any bread really to do this but we had some left over French stick from lunch so I used that. I chopped it in half and put it on a baking tray. Thickly spread some butter, thickly as it's nice to have it melt right through the bread, especially something thick like French stick. Sprinkle over some garlic powder generously, after trying with paste and fresh I've found garlic powder works best for this. Then top with some dry herbs. Put it in the over for 5-10 minutes depending on how crispy you want it. I usually put it on a low heat so the butter melts slowly rather than burns.
Once the meatballs have cooked right through (you can check this by cutting into one to make sure it's brown in the middle), drain the pasta and stir into the tomato meatball mix. At this point I also added my cherry tomatoes so they keep their shape rather than turn soggy. Then of course serve with the garlic bread and topped with fresh parsley. Delicious and very filling, which is brilliant since I barely even spent £3 on it!


Tonight I'm cooking

Thai Satay Chicken

, it's already marinating in the fridge.

If you'd like to offer a country for me to create a recipe from or even a recipe you think I should try, please feel free on my project page for
Around the World in 80 Dishes. Everything I plan on cooking has elements of authentic and traditional recipes with my own personal twist.