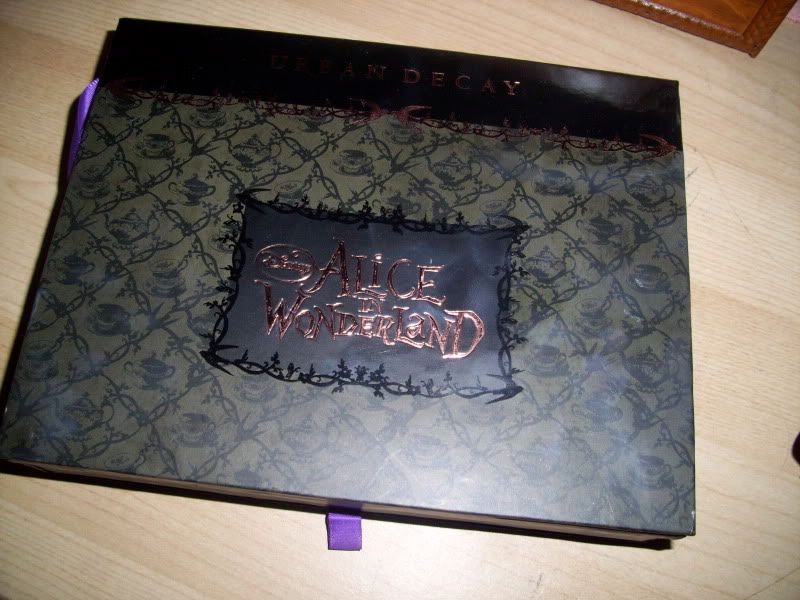 A few weeks back I was simply browsing in the new Debenhams in town when the girl on Urban Decay invited me over to take a look at their new products, one was the highly sort after Alice in Wonderland Book of Shadows. I'd seen it going on ebay for £50+ and I had promised myself I wouldn't buy it as I had a MAC shadow pallet already. However when I saw the beautiful colours I couldn't resist. I vowed when I got home I'd sell the MAC colours I didn't use much to pay for the pallet. I've recently been severely disappointed by MAC and I've moved from there to Nars and Benefit instead so it wasn't too much of a push to sell enough eyeshadows to make by the £28 I was paying for the Urban Decay pallet and now after 3 or 4 weeks I am so glad I did!
Since buying the pallet myself I've read some mixed reviews about i
t but personally I love it. It's completely converted my to Urban Decay colours and I know I'll be buying Book of Shadows Volume Two as soon as I have some spare cash. The eyeshadows last on my eyes all day, including nights out and a lon
g day at work. My old MAC ones always rubbed off half way through the day, especially any bright colours I wore leaving my eyes looking dull and tired. I don't particularly like the glitter based ones for the only reason that if you're not careful while applying some of the glitter can fall on your face. Luckily I found it pretty easy to dab the spare bits of glitter up but I can understand that it is a nusence. My favourite colours are Drink Me, Eat Me, Vorpal, Jabberwocky, Mushroom & Mad Hatter. Jabberwocky teamed with Vorpal gives a delicious smokey effect but it also looks great in the creases with any number of colours, my favourite so far has been with Queen and can just be seen in yesterdays post on my third outfit down. My other favourite combination is Mushroom with Wonderland over the t
op, it makes a beautiful antique gold colour.

I was pleasantly surprised by the 24/7 eye pencils. For some reason I've never experimented with Urban Decay eye pencils even though I am on the hunt for the perfect long lasting eyeliner. I always always wear black eyeliner on my water line, I think my eyes look awful without the definition of it the 24/7 pencil last quite a long time, I only needed to apply it once while at work for 10 hours which is pretty impressive. It's excellent for smudging on the lid for the smokey eye effect. The only problem is it does go down fast I've h
ad to sharpen it once already, I'm sure this is only because it's a gel liner as this seems to be the case with most other gel liners (such as Bad Gals Waterproof Eyeliner). I loved the blue colour you get with it. It looks excellent around the whole eye and really brightens the blue in my eyes. Both pencils also go on smoothly which is a good in my book.

My least favourite product in the Book of Shadows is the eye shadow primer. I had heard people rave about this stuff but I just can't get away with it. I find it really watery and it takes forever to dry which is useless if you're in a hurry. It's also really hard to get it on evenly. I much prefer my MAC painterly paint pot as a base.

Over all, I love it and I do think it was worth getting since it is a bit of a collectors item. And like I've said many many times I'm a sucker for all things Alice.


Product

: Urban Decay;'s Alice in Wonderland Book of Shadows


Price:

£28


From:

Debenhams


Buy it again?

I would if I could