Finally a day off and I feel I have so much to blog about! I've decided to
do another recipe for my project tonight, we're up to dish five my Around the World in 80 Dishes project and I ha
ve another three to write about. Hope everyone is enjoying them so far. The other night the boy and I took a little trip
to G
reece to reminise about our first holiday together to Rhodes. Whenever we
went to Rhodes town we lived on Pita Gy
ros as they were only 1E a pop, bargin when you're on a budget it (and trust me we were on a very very tight budget, about 30E to spend per day!). They worked out perfectly apart from the fact I
accidently burnt the pitas, I know better for ne
xt time.

The gyro is derived from the Turkish kebab and it's traditionally serv
ed in pita bread with meat, chips,
tomato, onion and tzatziki. The meat is of course the sam
e as that of a donar kebab but when making it at home I just chopped small slices of meat and marinated them in a similar sauce. Usually it's pork or lamb but I used chicken since that is what we had in Greece. I have altered the recipe to make something qu
ick and e
as
y
that I can prepare in advance and quickly pull together after work. Enjoy (we sure did!)

Dish number 5,

Pita Gyros with chicken

.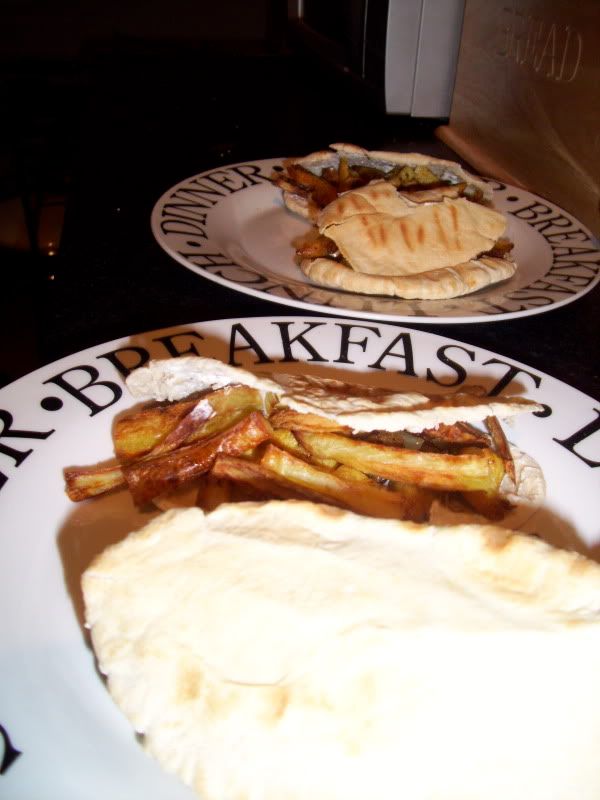 These would of looked so much more appetizing if I had made it so the pitas were still soft and didn't break when I stuffed them. Ideally I wish I'd used larger pitas but the boy and I usu
ally tend not to spend excess on bread stuffs. Anyway, ingredients.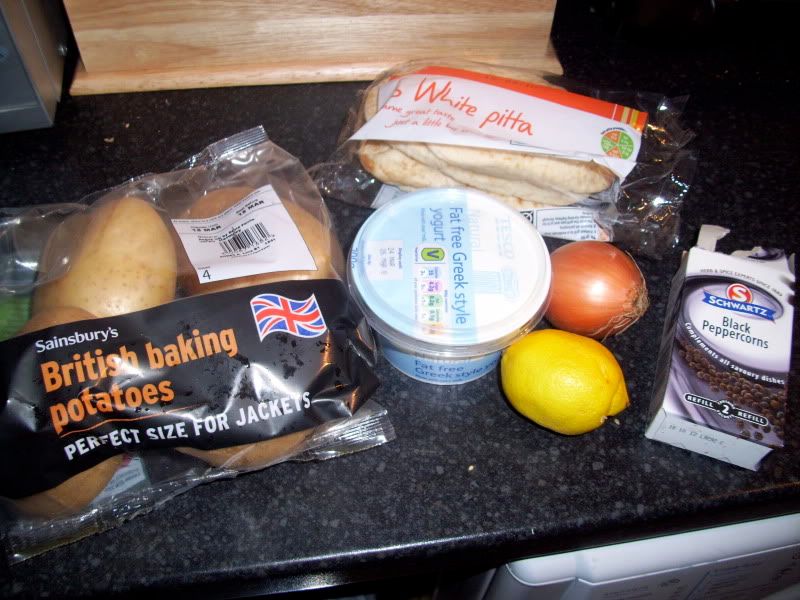 This is actually only half the ingredients as a large bulk of the ingredients needed
are all herbs and spices which I will list later. The other ingredients that are pictured here are potatoes for the chips. You can of co
urse use frozen if you're really in a rush. Pita breads, like I m
entioned before I really wish I had bought larger ones and I plan to do so next time. One onion, one lemon, some black pepper
and
som
e greek yoghurt. The last three items are for the tzatzki lik
e dr
essing but again for quickness you could use actual tzatzki or if you really want to you could just use mayo it tastes just as good. Not pictured is
the fact I used chicken. I don't remember why I didn't photo the chicken but I know I used 3 chicken breasts to make the amount for two people. You can go more authentic and use lamb or pork cut in
to strips I really don't think it makes a differ
ence to the recipe beca
use of the marinate I used. You co
uld even use beef if you wanted.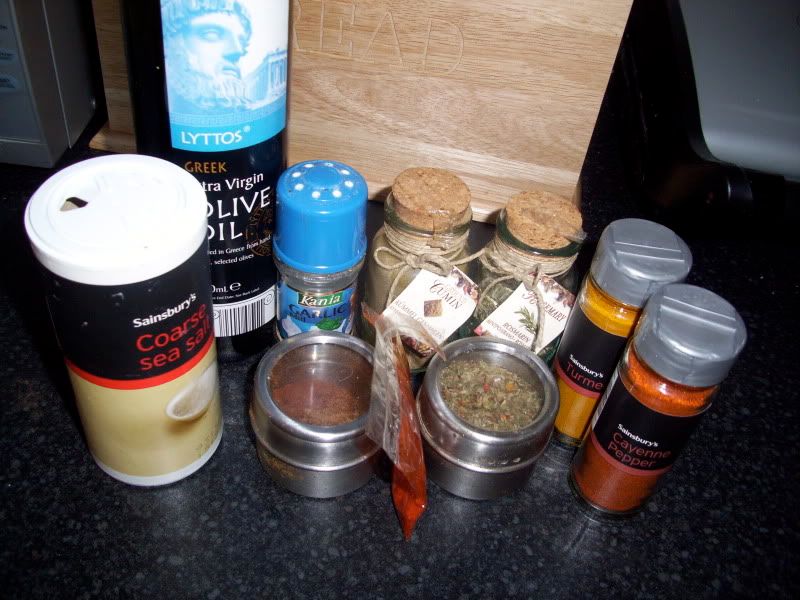 As I mentioned before even though there isn't many main ingredients to make gyros but to make the marinate you need a few more. I wa
s lucky and had all of these in the cupboard so I didn't have to go out and buy anything. Herbs and Spices tend to be quite cheap and last for a while. Aldi and Lidl
usually have them for about 49p a pot for some of the more common one
s
like
basil, paprika ect and they also sell grinder ones for about 99p, that's w
here I got my garlic from. For the base of the marinate I used extra virg
in olive oil. The herbs I used were mixed and extra rosemary. The spices I used were cumin, tumeric, cayenne pepper, chilli powder & paprika. I also a
dded some salt, pepper and dry garlic. So let's get cooking!
Firstly, pour a generous amount of oil into a bowl and stir in the herbs and spices mentioned in the ingredients. Give it a good stir until everything is mixed together.
Add the chicken and cover in the marinate. Then put in the fridge f
or a few hours to ensure the marinate has soaked through the chicken giving it good flavouring throughout.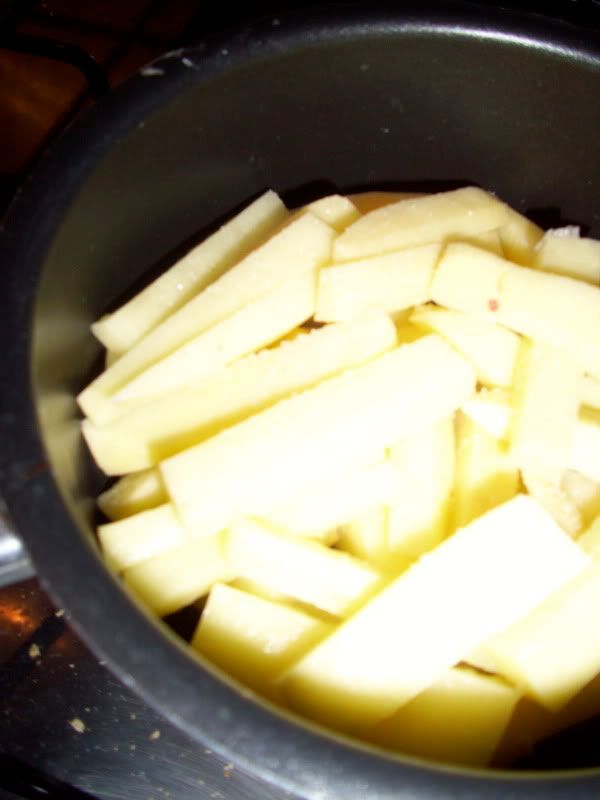 Next peel the potatoes and chop into chip shape. Put them into a pan with water and bring to the boil. Cook them until they've started to go soft. Then drain them.


Take the marinated chicken out the fridge and place on a tin foil covered tray. Put the chips onto another tin foil covered tray and place t
hem both in the
oven.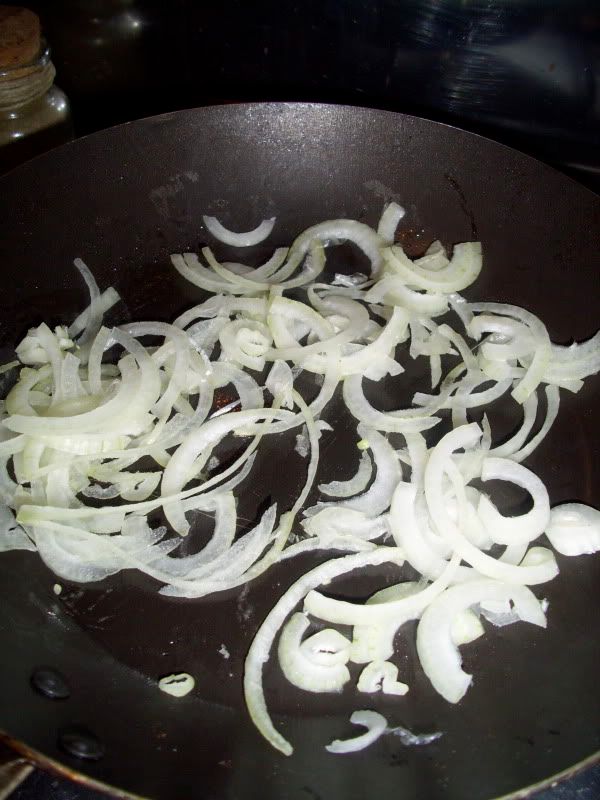 Chop some onions into thin strips. Then add some oil to a frying pan and add the onions. Fry on a low heat until they're soft and translu
cent.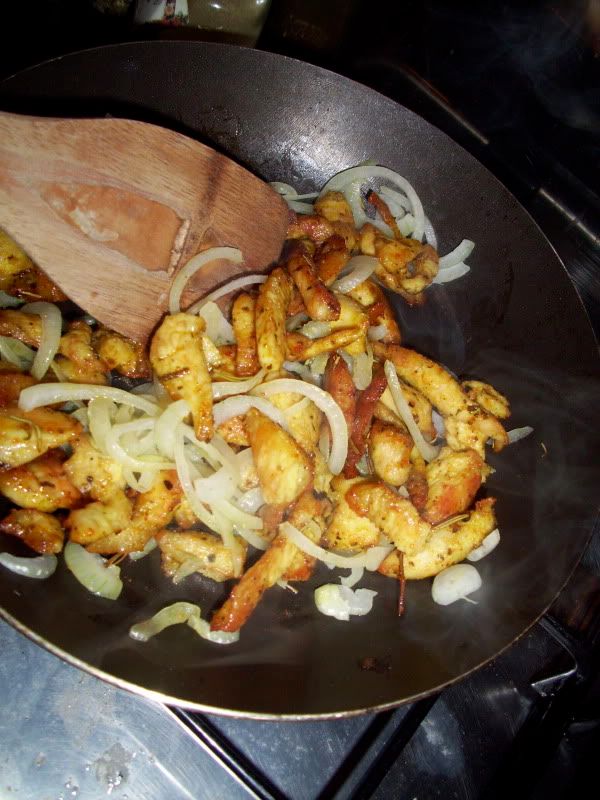 Remove the chicken from the over just before it's done and add to the frying pan. Mix around until the spices cover both the onion and the chicken.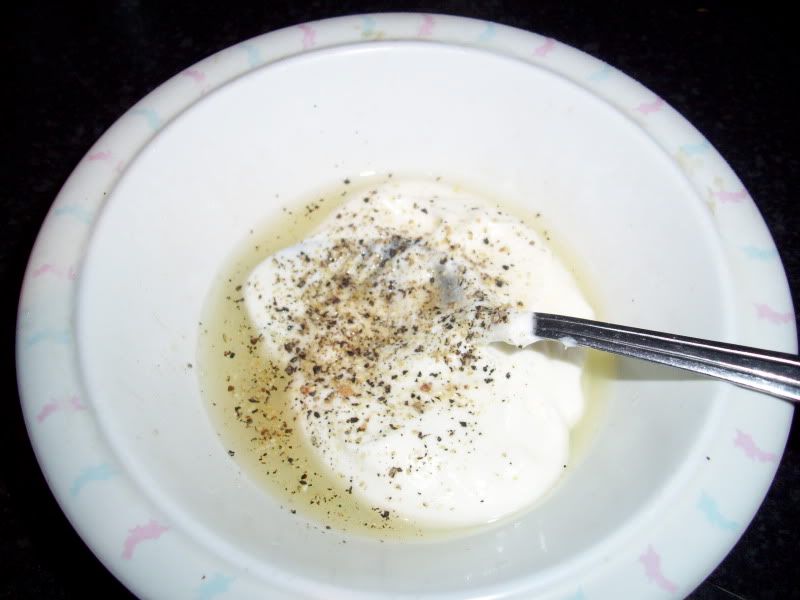 Leave the chicken and onion on very low heat and start preparing the
dressing. Mix a few spoonfuls of Greek yoghurt with some
lemon juice and black peppe
r.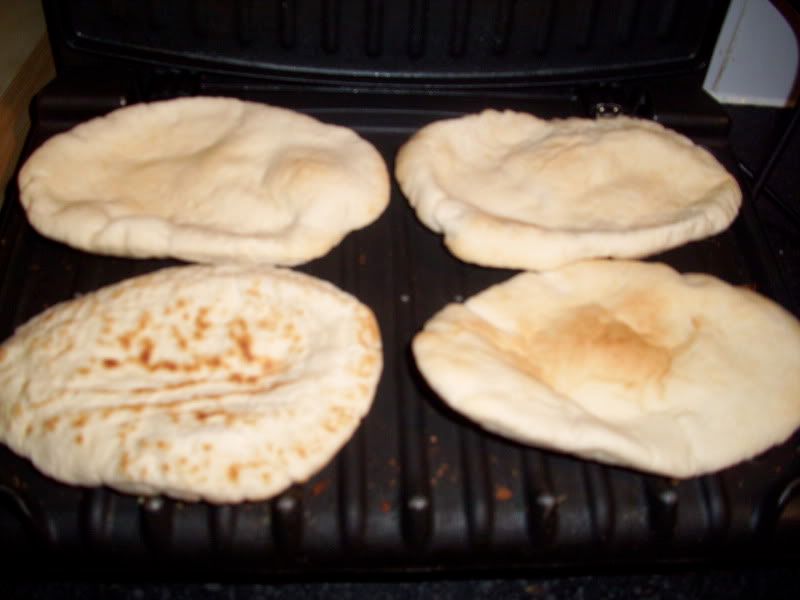 Heat the pita breads. I used our George because the chips were still i
n the oven on high heat and we don'
t have a toaster.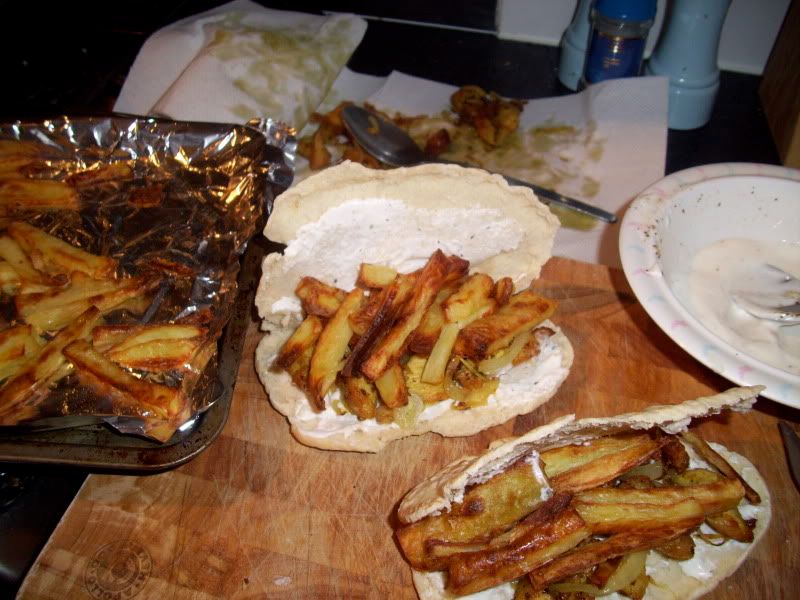 Finally assemble the gyro. I spread the dressing onto the pitta then added a spoonful of the chicken and onions and topped with chips.
Then serve.
If you'd like to offer a country for me to create a recipe from or even a recipe you think I should try, please feel free on my project page for
Around the World in 80 Dishes. Everything I plan on cooking has elements of authentic and traditional recipes with my own personal twist.